With the holidays right around the corner I'm always scrambling for last minute gift ideas for my loved ones! This year I decided to help you all out with your lists. First list is for those beautiful traveling ladies and second is for the handsome men in your life. Here's what I recommend!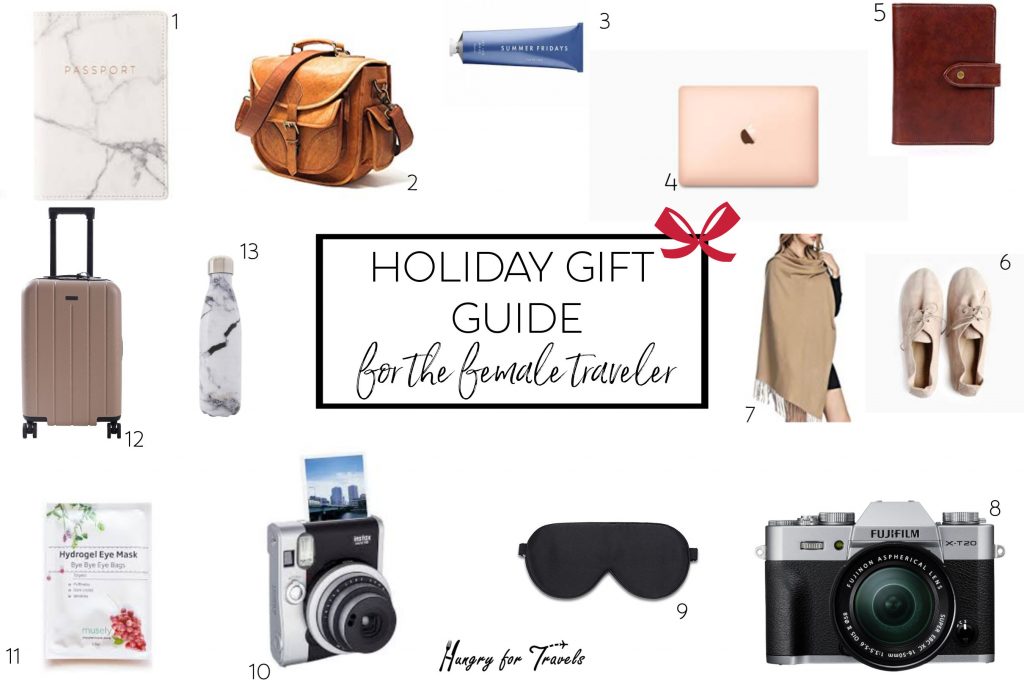 1.What girl doesn't love a cute passport holder? I know I do!

2. Every girl on the go needs a camera bag, that's cute of course!

3. When traveling, good skin care is ABSOLUTELY necessary. I love applying this mask (it goes on clear) before I even take off. It helps keep your face moisturized on long haul flights.

4. Every girl needs a good laptop and this gold edition is my new obsession!

5. For me, being a travel writer, it's imperative for me to remember everything that I see and do! I love bringing this cute leather one to jot down notes or restaurants.

6. My latest shoe obsession (especially when traveling) are Hobes. Not only are they so comfortable but they're also very stylish!
CLICK HERE for Hobes website!
7. I always bring a cashmere shawl with me when I travel. It's easy to pack in a backpack and will keep you warm on a cold plane. Not to mention how cute they look!

8. A good camera is necessary when traveling- so get her the best! This easy to use Fujifilm camera is smaller than your usual DSLR and I love the retro aesthetics. For a more advanced photographer, I'd also recommend the Fujifilm XH-1.

9. Black out sleep masks are necessary. I love this one!

10. When traveling, sometimes I don't want to lug around a big camera. This Instax Mini camera is always fun to take around and have Polaroids of everywhere you've been.

11. As well as putting on an overnight face mask, I always put these Musely Hydrogel Eye Masks on. They stay on even with an eye mask and really help with puffy eyes which I tend to get when traveling. They come in individual packages so they're easy to pack in a purse.

12. When going on anything 4 days or less I always just pack a carry on instead of checking a bag. I love the look of this one and how lightweight it is.

13. Its always important to stay hydrated, especially when traveling! I always have my swell bottle with me and absolutely love it- especially in the marble design.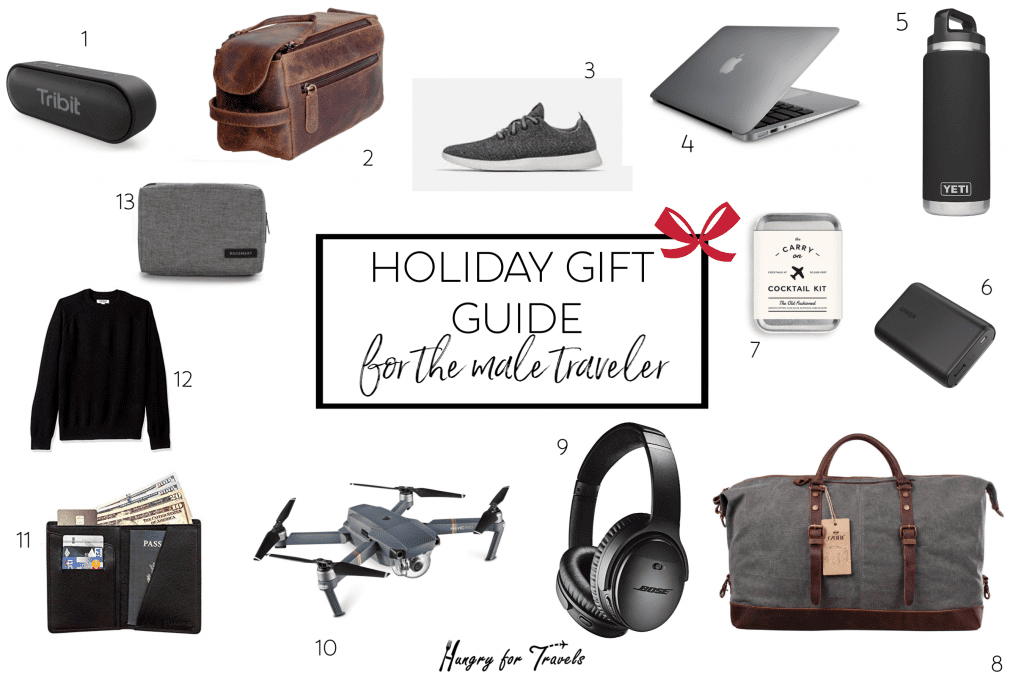 1. Every man loves a good bluetooth speaker, and this one is great because it's waterproof and perfect for outdoor adventures.

2. Even men need a good toiletry bag and this leather one is durable and stylish.

3. Allbirds are one of my favorite shoes right now for men or women. They're made of merino sheep's wool so they are so comfortable AND they can be machine washed which is very helpful for traveling.
CLICK HERE for Allbirds!
4. Who doesn't love a good Macbook Air? It's the perfect size and weight for traveling. Great splurge gift!

5. Even men need to stay hydrated when traveling. This Yeti is perfect for traveling with it's screw top lid.

6. Is it just me or do men never charge their phone at night? I have this portable charger and couldn't say enough good things about it! It charges quickly, lightweight, and pocketsized.

7. I love a good cocktail and these carry-on cocktail kits are the great way to enjoy a quality drink in-flight. I love the Old Fashioned one!

8. Every man deserves a good weekender carry-on bag. This one is the perfect size and very manly.

9. On planes its a necessity to have noise canceling headphones. These are the best out there!

10. Guys love their gadgets! Trust me- this is the ultimate gadget to get for your travel guy. It folds up compact, is lightweight, and easy to maneuver.

11. This passport holder travel wallet is a smart purchase for the international traveler.

12. Airports and planes get chilly…even for the manliest of men. This throw on sweater is not only fashionable but easy to throw in a backpack.

13. Who else has a backpack filled with cords when traveling? This is the perfect way to store all of them in an organized and easily accessible way!