Huilo Huilo Biological reserve is a magical area located in the middle of the Chilean Rainforest in Patagonia. Set under the majestic Andes Mountain range, this area is one of a kind a must visit while in Chile. This biological reserve, which is privately owned, sprawls across approximately 148,000 acres of untouched landscape. They have a special bond with nature here and you can feel it the moment you arrive. If you're lucky enough to visit Huilo Huilo here's what I recommend!
Stay at one of their amazing properties!
I'm partial to Hotel Nothofagus, but they're all amazing. At Hotel Nothofagus you feel as though you're sleeping in a treehouse being fully immersed in nature. Also popular on social media is their Montaña Mágica Lodge. All of their accommodations at Huilo Huilo are impressive and the food….uh-maaaazing. I can't say enough great things about their chef!
Fall in love with the trees!
There is some serious tree porn around Huilo Huilo. Every tree looks like a piece of art and I couldn't get enough. The pure Patagonian air mixed with all of the rain they get makes the perfect environment for trees. Don't believe me? Check out these trees!
Have a sunset wine and cheese party on top of a snowy volcano!
Casual, I know. I know you're probably reading this rolling your eyes thinking "yea, right'. But- yes, right!! My friends at Huilo Huilo can do this for you. It was one of the most magical experiences I've ever had. Sitting atop a snowy volcano with the Andes mountains in the background drinking a delicious glass of red wine. It's an experience that while I was doing it I had to pinch myself to make sure it was real. They drive you about 45 minutes up the volcano to the top where there is snow year-round (fun fact-  it is one of the only places you can ski here all year!) to a viewpoint that has picnic tables and set it up! A must do if you're visiting.
Hike to one of their beautiful waterfalls!
My favorite was Salto de Huilo Huilo. It was an incredibly beautiful hike and worth the butt-busting walk back to the top. The color is unlike any I have seen before.
After hiking, try a local brew!
What better way to utilize that crisp clean Patagonian water than to make some pretty incredible beers? I was seriously impressed with how delicious they were. The only sad new is you can only experience this craft brew here!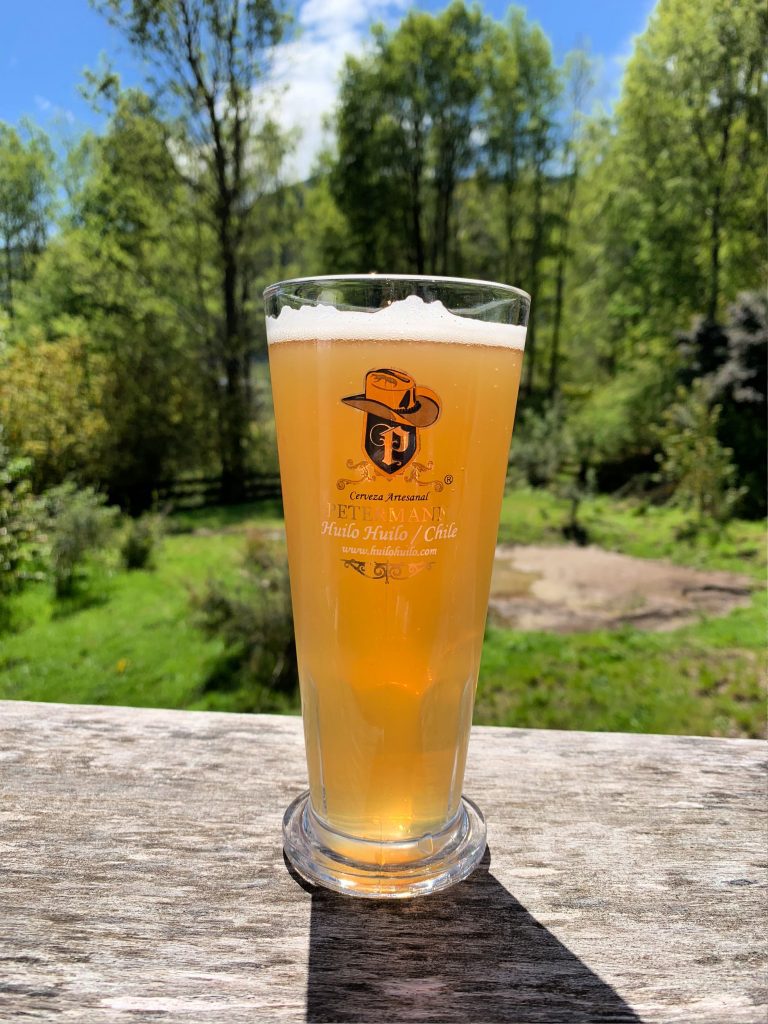 Spend an afternoon soaking in natural hot springs!
Located in a remote area on lake Panguipulli is where you will find one of the most tranquil areas on Earth. Open to everyone (getting there is the hard part) is where the hot springs are located. Walk along the boardwalk until you reach hollowed out tree trunks with a continual supply of hot spring water with nature in the background. Bring a couple bottles of wine, some food, maybe a guitar, and you have a perfect day. This is also another experience my friends at Huilo Huilo can set up for you!
Find a newfound love for nature!
Huilo Huilo is a very special place and you just feel different being there. You're surrounded by lush nature and landscapes you can't really fathom unless you're there. Every little fern or leaf growing will make you happy. It's a sensory overload and one I can't recommend enough!