For about 2 years now, Antigua has been on my list of places to go. I was so fascinated with the colors, the vibrancy, the volcanoes, and the buildings of this historic town. I felt as though I had a strange connection with this beautiful place before I went, with every photo calling me there. About a week before I actually went, before I knew that I was going, I decided that I needed to go somewhere- anywhere. I randomly looked up flights down to Guatemala for the following week, figuring they would be outrageous. To my surprise they were super cheap- I'm talking $189 round trip. I booked it right then and there and I was off.
Upon my arrival I couldn't help but to be nervous. Was this magical place I've built up so much in my head and heart going to live up to my high expectations? Was I going to get there and it just be a complete tourist trap as I've found a lot of these beautiful, colorful places to be? Well, it didn't life up to my expectations. In fact, it completely exceeded them. Antigua was everything I wanted it to be and more. Sweet locals, vibrant handicrafts, expat influenced adorable cafes, and pure beauty. I spend a long weekend there and to be honest, I need to go back to explore more. I would wake up every morning in my amazing hotel room just dying to get out there and explore ever nook and cranny of the city that I could. I would walk about 7 miles a day on those cobblestone streets, in awe. If you are looking for a beautiful place to get away then Antigua is it and when you are there, here's what I recommend!
Getting there:
After flying into Guatemala City, it is about a an hour drive (maybe more with traffic) to Antigua. I highly recommend booking a private transfer just because its so much easier. They are waiting for you at the door with your name and you're ready to roll. It costs me $40 each way and was worth every penny. There are local shuttles that can take you there but if you don't speak Spanish well it can be a bit overwhelming. Some hotels offer transfer, but charge more money than if you do it directly. I used this website to book and they were very sweet and got me there safe and sound! You can get a taxi when you arrive but if it is late a night they are not that prevalent.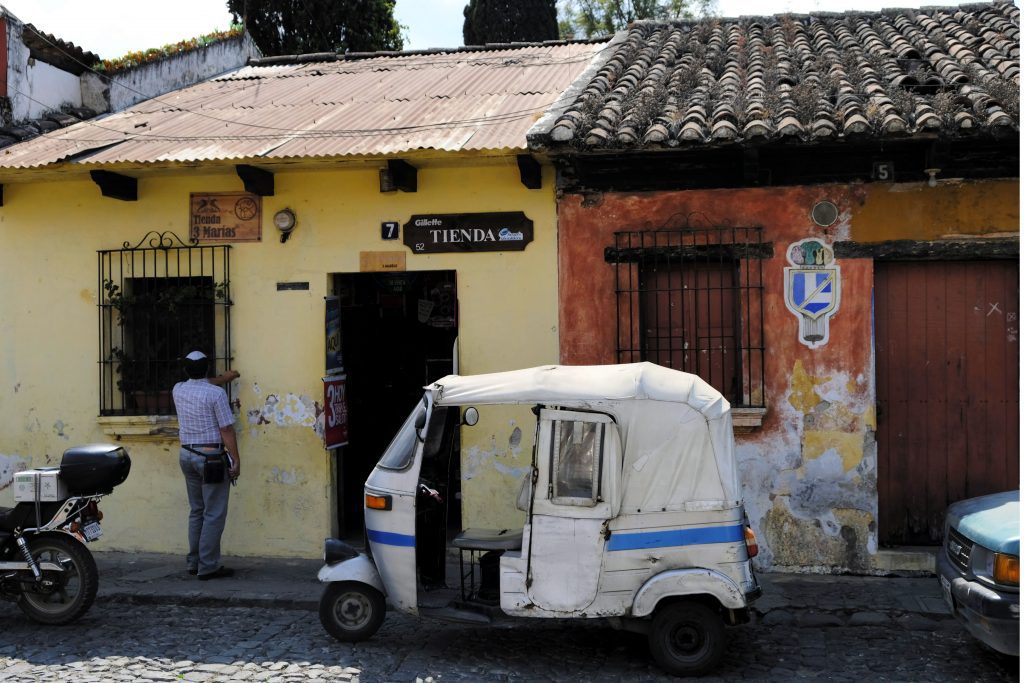 Where to stay:
I did a little research on where I should stay and one place really stood out to me so I booked it immediately. I stayed at the incredible El Convento Boutique Hotel and highly recommend it to everyone. It was a beautiful boutique hotel with an incredible restaurant, sweet staff, and dreamy garden area. My room was on the ground floor which meant i had an outdoor terrace garden area with a jacuzzi. Swoon. I had a delicious breakfast every morning at the hotel that fueled me for the day. If you're looking for others I would also recommend Porto Hotel, Hotel Casa Santo Domingo, or Meson Panza Verde. To be honest all of the hotels, hostels, and BnB's were beautiful so you're safe booking anywhere.
What to do:
– Get lost walking around the picturesque streets all day long. Be prepared to have a camera in your hand at all times
– Visit the fruits markets as well as the artisan market. The market seems to go on FOREVER but I always love getting lost in them and seeing the beautiful fresh fruit
– Get up early to walk around. Normally I'm not a huge early morning person but there was something so special about the mornings in Antigua. Seeing the locals walking to work, the stillness of the streets, and the lighting of the morning just felt special. It's also an amazing time for photos since the midday sun can be quite harsh!
– Visit the iconic Arco de Santa Catalina. This beautiful arch is even more stunning in person if you can believe it. If you go in the morning on a clear day you'll be able to see the volcano in the background and it is just beyond picture perfect. The whole street leading up to the Arco is vibrant and a great street to walk around, shop, explore, and fall in love
– Have a mid-day glass of wine at Tartines overlooking the ruins at La Catedral
– Drink an exorbitant amount of incredibly amazing Guatemalan coffee in one of their many cafes
– Fall in love with the sweet Guatemalan people
– Visit Hotel Casa Santo Domingo's museum
– Buy a TON of handmade textiles and goods from shops or markets
– Get your downward dog on at Shakti Shala yoga studio or Earth Lodge
– Eat everything! From amazingly trendy cafes to beautiful restaurants to street food Antigua was nothing but delicious
– Hitch a ride in a tuk tuk up to Caoba Farms where you can view their amazing organic farm and eat there. They also have an amazing farmers market on Saturdays!
– Have a sunset cocktail overlooking the city at Cafe Sky
– Check out all of their amazing ruins and churches
Where to Eat:
Breakfast: If your hotel doesn't offer a complimentary breakfast there are amazing spots! Be sure to check out Union Garden Cafe, Canela Bakery, Cafe Condessa, Y Tu Piña Tambien, Roots, El Local, or Caoba Farms
Lunch: Meson Panza Verde, Tartines, Roots,  Sabe Rico, Y Tu Piña Tambien, Caoba Farms, Fridas, Cactus Tacos, La Esquina Street Food Market, El Local
Dinner: El Convento Restaurant, Porque No, Bistro Cinq, Epicure, Tartines, Fridas, Hector's Bistro, Cactus Tacos, Fonde de la Calle Real, Santo Spiritu
Where to Drink:
Coffee: Cafe Union, Guatejava, Refuge Coffee, Fat Cat Coffee House, Sky Bar, Artista de Cafe
Booze:Cafe no se, Cafe Sky,Tartines, Snug,  The Londener, El Barrio, La Cantina Royal, The Terrace, El Ilegal, Tabacos y Vinos
Where to Shop: 
La Casa del Algodon, Nimpot, Nativo, Uxibal, Ixcaco, Market at Ruinas del Carmen, Artisan Market, Mano Preciosas, Colibri, Hilosophy