I drove along the enchanted winding road that hugs Lake Kawaguchi. Out of my window Mount Fuji was across the lake, standing majestically.  My driver pulled off the road and up to a small glass walled building. Inside was filled with smiling faces and a minimalistic check in area. I checked in, selected a backpack I desired off the wall for my glamping experience, and was escorted to my room.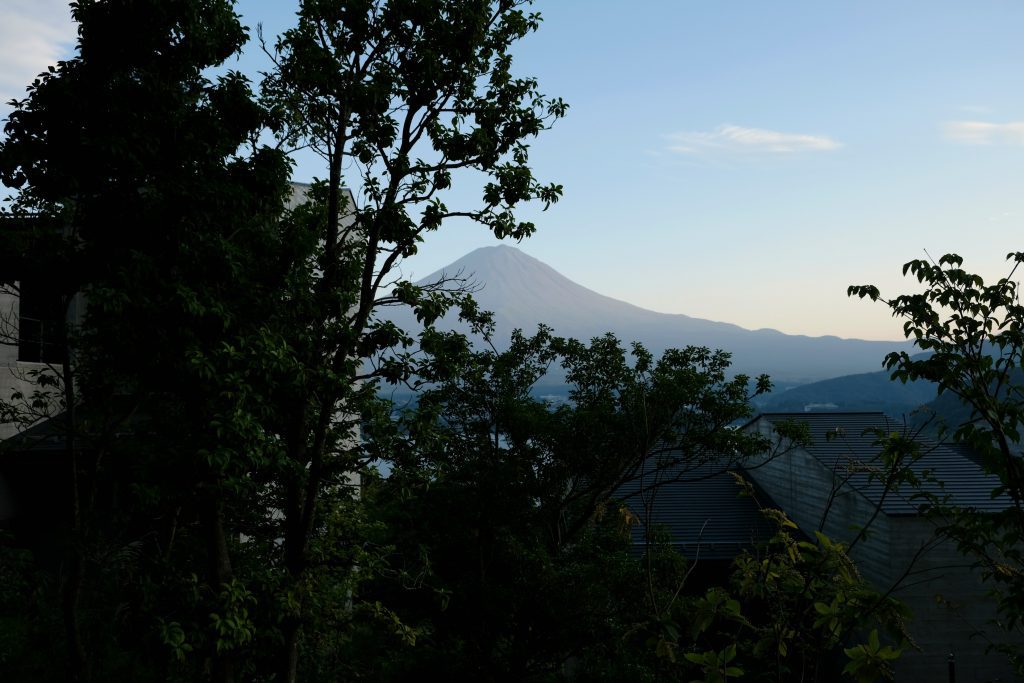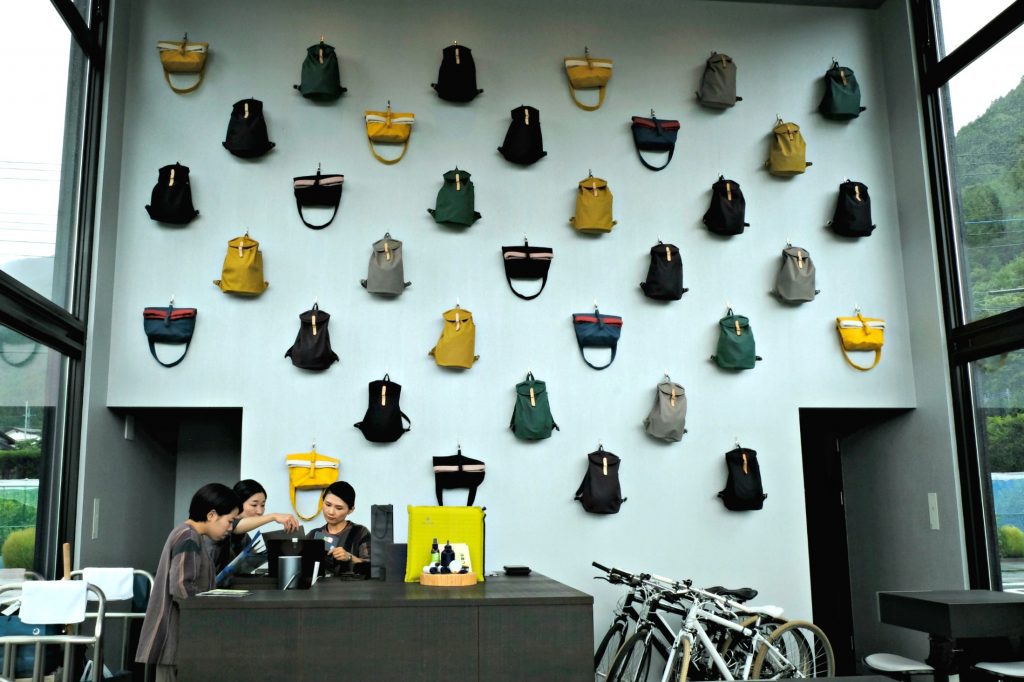 A narrow red pine lined path led me further down and into the forest. The sweet smell of conifers, pine, and a nearby bonfire satiated my nose while happiness permeated my soul. With each step and a crackle of fallen leaves under my feet my anticipation grew. An opening in the woods revealed itself, as well as my cabin.  With a turn of the key I was in my room.
Like telescopes aimed towards the sky, the minimalistic cabins jut out from the slope and towards Mount Fuji. The rooms are modest, yet chicly designed inside with a glass wall that opens to your large living room style balcony, begging for you to be outdoors. The ultimate Zen fell upon me as I sat on my balcony- sipping tea and luxuriating in the scenery.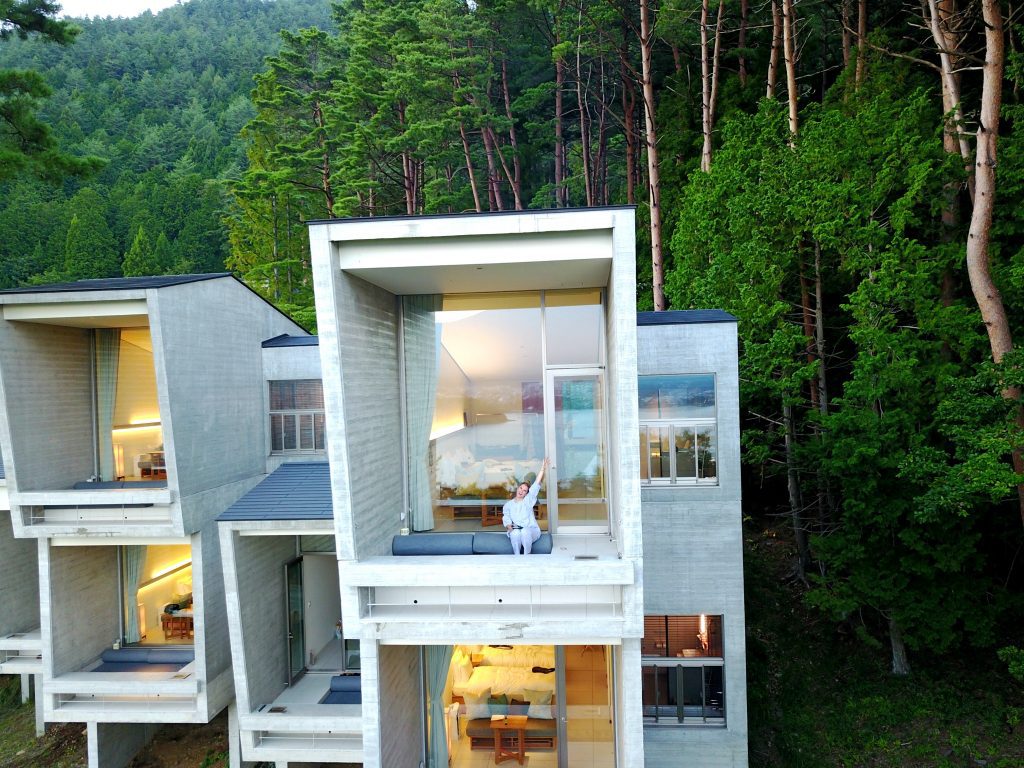 At HOSHINOYA Fuji, becoming one with nature and embracing all that it has to offer is the ultimate focus. You can spend your days wandering the vast 15-acre premise, sitting on the Cloud Terrace alongside the continuous bonfire making s'mores, laying in a hammock reading a book, sipping Japanese Whisky in the forest, or chopping firewood. Also available are private electric bicycle tours, mountain trekking tours, and a Jukai Nature Tour. Tea and s'mores during the day are always available and happy hour at the Cloud Terrace is a must. If you are an early riser, HOSHINOYA Fuji offers an early morning canoe rides on Lake Kawaguchi, where you can get the lake and unobstructed views of Mount Fuji to yourself as the morning fog burns off.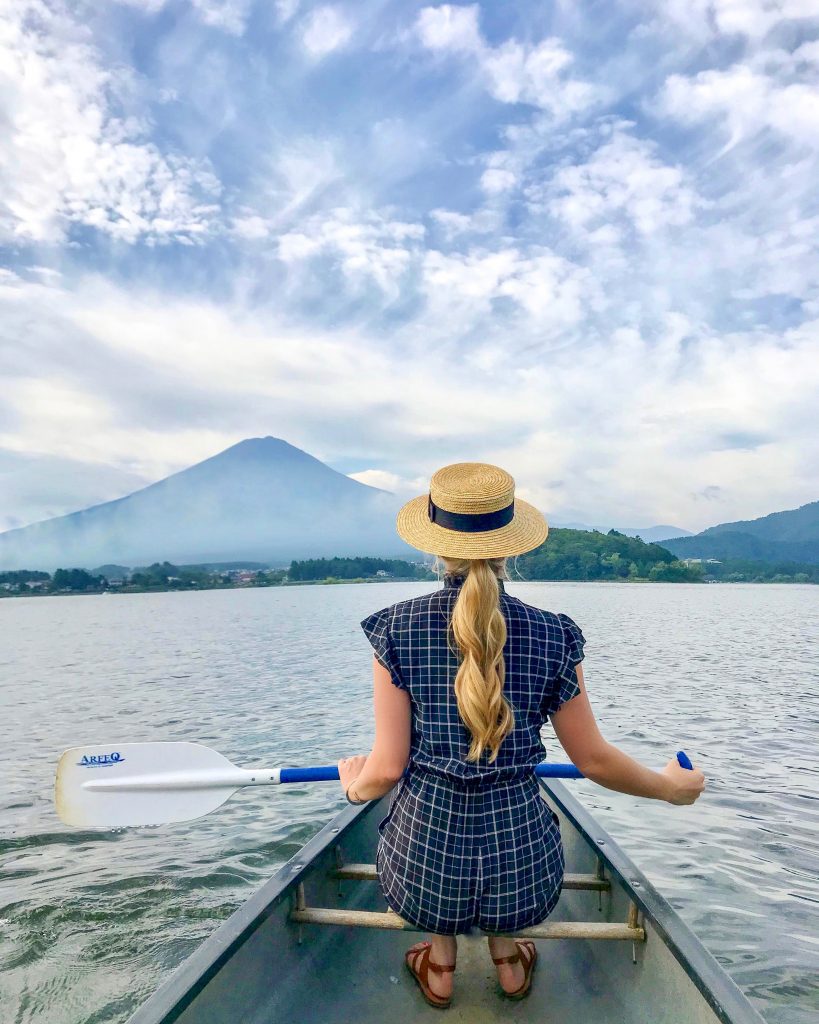 At HOSHINOYA Fuji, they strive for culinary perfection. Only using locally grown, foraged, or hunted products in their restaurants their food is a feast for all senses. With each season comes a new menu, highlighting only what is available in the surrounding area. Breakfast can be in the Cloud Terrace or opt for the impressive breakfast box they will set up for you on your balcony. Sipping on a hot cup of coffee while overlooking Mount Fuji is a bucket list worthy experience. For lunch, they offer culinary experiences such as making your own pizza or pressed sandwiches in their outdoor kitchen with local ingredients. Whether you opt for dinner with a view on your balcony, in their beautiful dining hall overlooking the forest, or to assist with making your own dinner at the Forest Kitchen outside- you are sure to be blown away.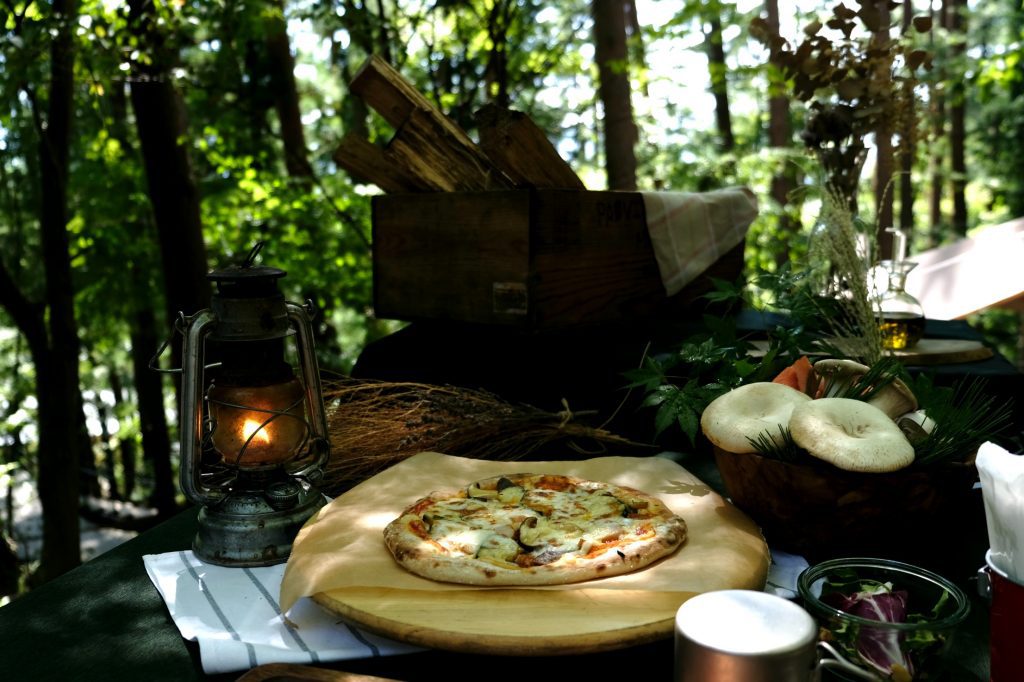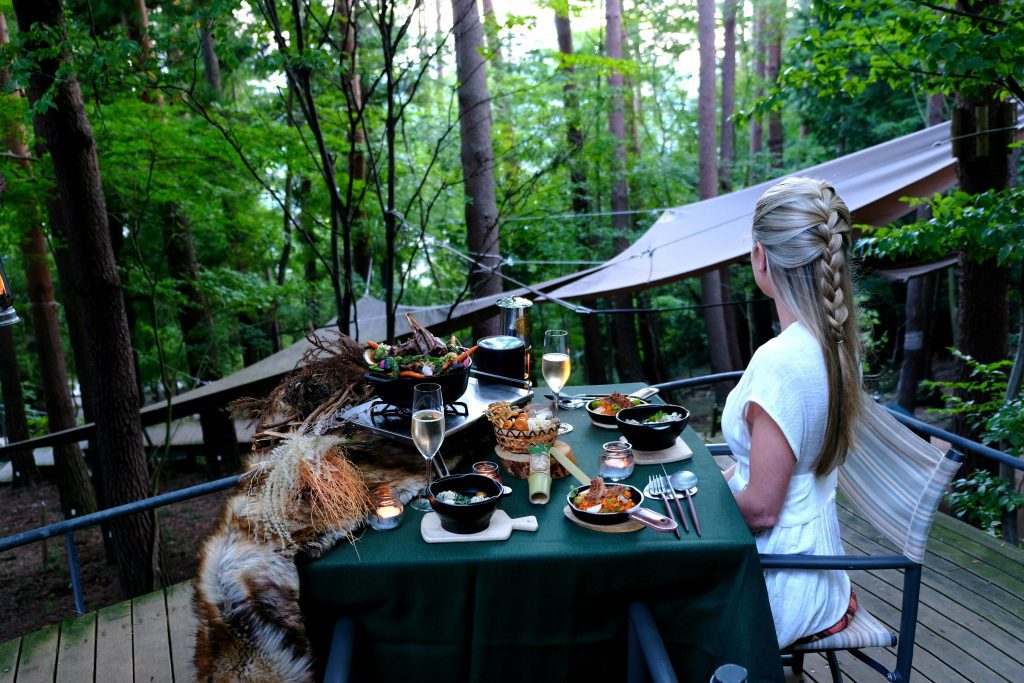 After dinner HOSHINOYA Fuji offers daily entertainment if you're looking to do something other than sitting on your balcony with a bonfire sipping Japanese Whiskey under the stars. They offer daily forest concerts with local entertainment, s'mores by the bonfire, and even movies in the woods. Nighttime in the forest is magical and can't be beat.
Every time I look back on my visit a wave of longing comes over me. To this date I have yet to feel the calmness and happiness that I felt while staying at HOSHINOYA Fuji. It is one of the most special places I've had the pleasure of visiting. From the very attentive and kind staff to the most picturesque views possible, to incredible cuisine this glamping resort has it all.