Dubai is a city of your wildest dreams. It's modern, clean, safe, and gorgeous… basically it's an oasis in the desert. I have to admit that I was a bit skeptical about visiting Dubai because I didn't know what to expect. Most of my travels I like to experience places rich in culture and history, and before visiting I didn't think that Dubai or the UAE had that. On my way back from my Nepal/Bhutan trip I had a long layover in Dubai so I decided to extend it by another night and make a trip out of it! I enlisted the help from my friends at Dubai Private Tours to show me around so I could see as much of this wonderful city as I possibly could, and I did! I highly recommend if you are only there a short time to hire a guide so they can show you around and tell you about this history. Here's what I saw and what you can see in just a day!
---
Dubai is known for a lot of things, but Palm Jumeriah is top on that list. It's the world's largest artificial island and home to gorgeous homes, apartments, and hotels. I was lucky enough to stay at Atlantis, The Palm and it was amazing to be able to see the Palm.
(Photo by Nakheel)
Another must see is the Dubai Skyline. It's pretty incredible that 30 years ago Dubai was literally nothing. Everything you seen in Dubai has been built recently… and they're building more and more everyday. Also, watching the desert sunset fall behind the skyline might be one of the most beautiful things I've seen.
An iconic hotel for Dubai is the Burj Al Arab. This 3rd tallest hotel in the world and the only 7 star hotel is must see while walking on the beautiful Jumeriah public beach next to it. I personally couldn't afford to stay there… so I admired from afar. Sigh… one day maybe.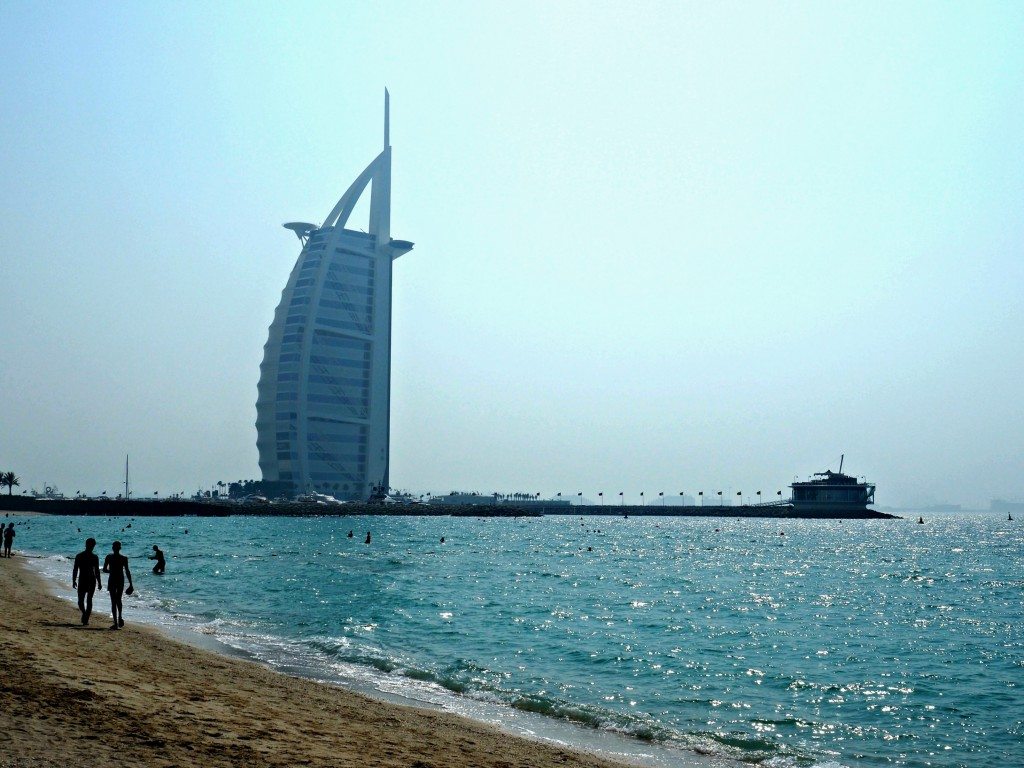 Head down to the Dubai Marina and gawk at all of the amazing yachts and high rises that line a two mile stretch of the Persian Gulf shoreline.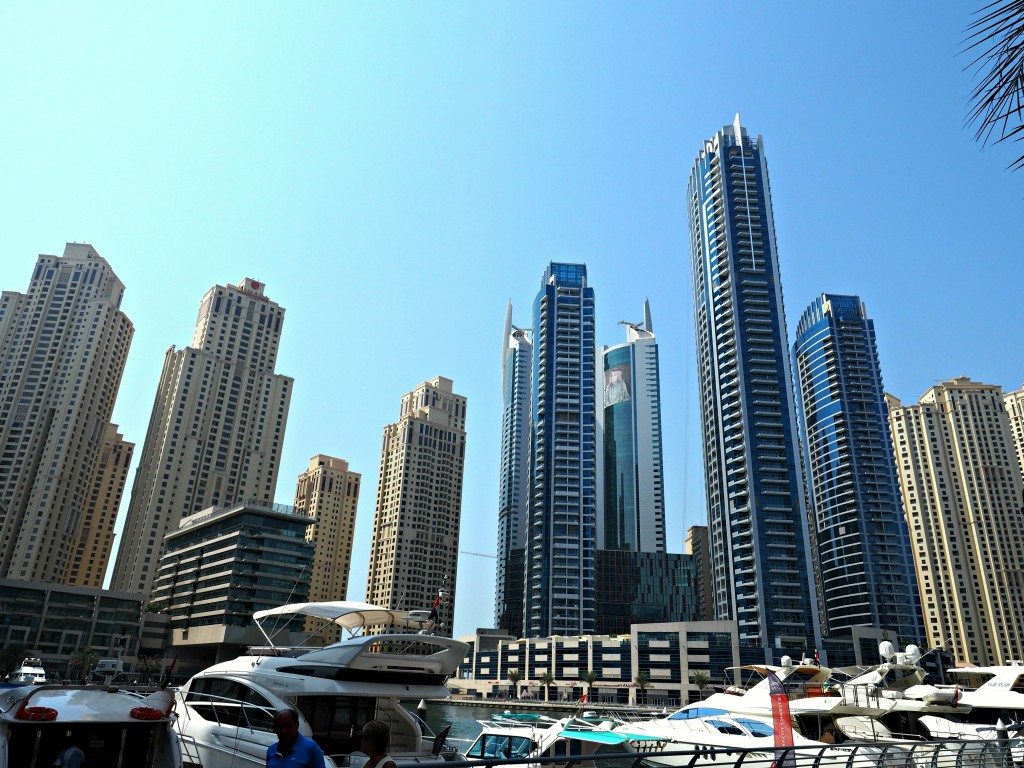 Want to get out of the desert heat? Go walk around Dubai Mall or any other insanely huge mall for a little! This is the world's largest mall and guess what… they're expanding! They have literally every shop and restaurant you could ever imagine and they even have a HUGE aquarium. Oh, and watch the people skiing indoors. In the desert. When in Dubai.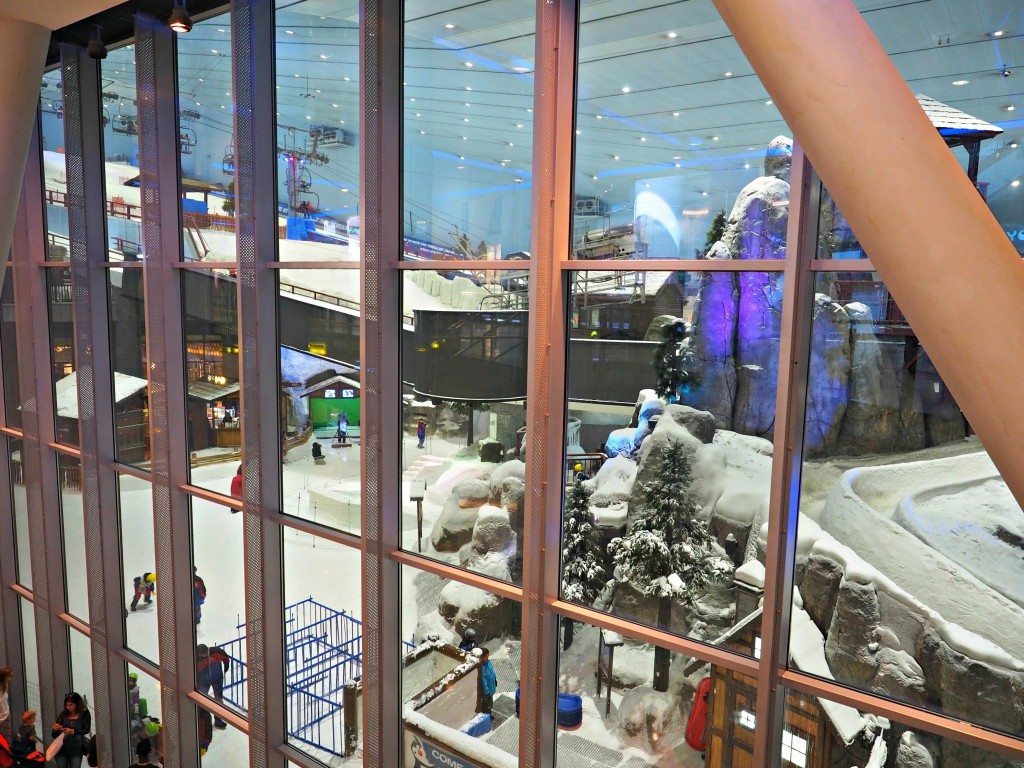 After a while of checking out skylines and malls I wanted a change of scenery so I begged my sweet guide to take me to the Desert. I'm glad he did too because it was beautiful. If you are feeling adventurous and have the time, it's a must see. When I go back I'm definitely going to do a Desert Safari!
Take a boat ride (or just drive) to Old Dubai, making sure to check out the Spice Souk as well as the Gold Souk. I loaded up on amazing saffron, loose teas, and dates to bring home as souvenirs for myself to everyone I loved.
Last but not least, the Burj Khalifa. By the time I got to the largest building in the world it was dark out, so I didn't go to the top. I did, however, get to experience the most amazing fountain show (bigger than the one at Bellagio in Vegas I was told) that happens every night every 30 minutes. I just sat there in disbelief as the Burj Khalifa was sparkling in the night and I watched the beautiful fountains go wild to different songs. Definitely a must see.
All-in-all this place is unbelievable. A very well thought out layout of the city helps you to see as much as you can in one day. If you ever get the chance to go to Dubai, do it… even if it is just a long layover. UAE… I'll be back for you one day!