When you think of visiting Turkey, most people instantly think of going to Istanbul. Although Istanbul is amazing, there's more to this beautiful country than just one city! I absolutely LOVED visiting the Bodrum Peninsula and think everyone should pay it a visit too. This peninsula is located on Turkey's Southwest coast into the Aegean Sea and is known for the picturesque beach towns and ancient ruins. Here are 10 things that I recommend doing in Bodrum!
 
1. Walk around the Medieval Fortress and Bodrum Castle.
Fun fact: the medieval fortress was built partly with stones from the Mausoleum, one of the Seven Wonders of the Ancient World.
2. Visit a traditional Turkish Hammam.
Walking into the Turkish Bath you feel like you've stepped back in time. The inside of the hammam is covered floor to ceiling in marble that is heated along with fountains everywhere to cool you down. As you lay there you are rubbed down by a Turkish man (only wearing a towel around his waist might I add) with a horse hair glove, lathered up, and massaged. You will feel like a new person walking out.
3. Eat everything/ Drink LOTS of tea and Turkish coffee.
I have to say, I literally ate my weight in Turkish doners. They are everywhere and just fill the street with the amazing smell of roasting meat and veggies. Also, drink the Turkish apple tea (YUM) and don't forget about the Turkish coffee! If you happen to stumble across an old lady, make sure to have her read your fortune from the leftover coffee grounds. Things can get weird.
4. Make friends!
The Turkish people are so sweet and so excited to see you visiting their gorgeous country. Everyone will want to talk to you. Just a heads up ladies… Turkish men will LOVE you. It'll go to your head a little bit.
5. Smoke hookah on the beach.
One of my favorite memories from the trip was sitting on bean bags on the beach at night with some new friends we met that were from there and smoking hookah. Now, I really hate smoking, BUT… when in Rome… or Bodrum.
6. Visit the local market.
I picked up some awesome stuff there… like spices and old records to take home to loved ones. Going to a market is always a must in any city.
7. Buy LOTS of pottery… and everything else.
A plus of being in Bodrum as opposed to Istanbul is the quality of the things you are buying and the price. It's WAY cheaper than Istanbul and a lot of the beautiful hand painted pottery was made in Bodrum. I came home with the most beautiful hand painted plates, tiles, and jewelry. I physically could not stop buying everything.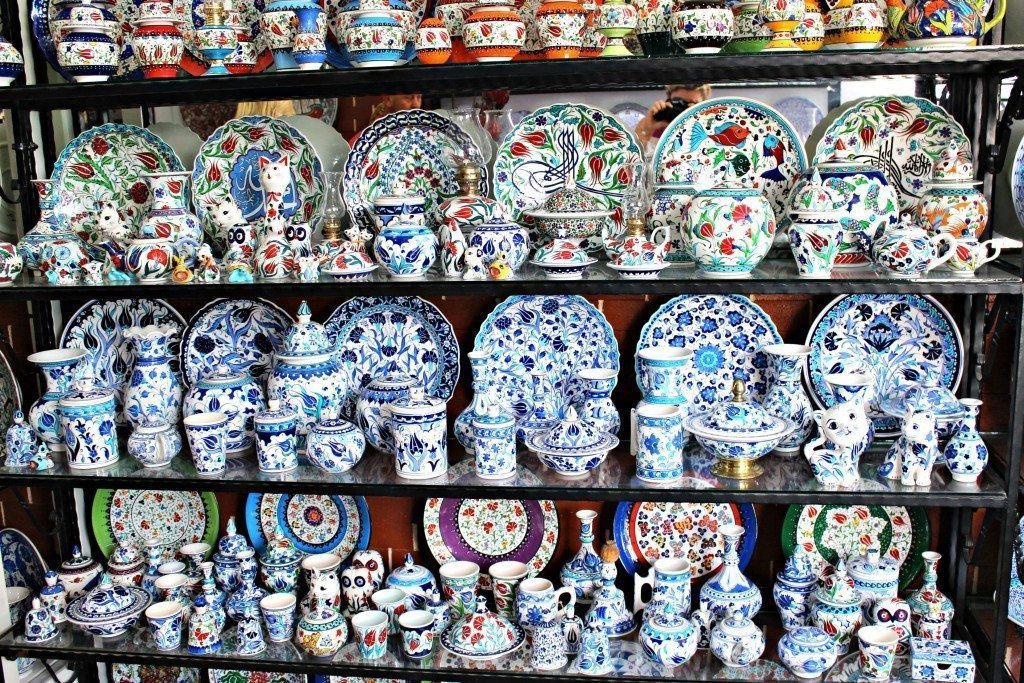 8. Take a day trip in a traditional Turkish Gulet.
A Turkish Gulet is a traditional wood two or three masted boat. They line the harbor and are always available to be taken out on a day trip around the coast.
9. Visit the Bodrum coast and beaches.
Like I said, Bodrum's beaches are just unreal and going by car is an alternative to going by boat, which everyone is not a fan of.
10.Take a day trip to the countryside.
Bodrum's interior is lined with beautiful olive trees, farms, flowers, and other great things to see.