Oh Kyoto, you have my heart. This former capital of Japan is home to imperial palaces, picturesque Buddhist temples, perfectly manicured gardens, traditional geishas, and so much more. It was my first stop on my Japan trip and it was the perfect introduction to Japanese culture. It's a blend of old meets new and traditional meets contemporary. Food there is omnipresent and delicious beyond belief. All of the recommendations I have I did in two days, so even if you're there a short time you can still see so much! I highly recommend visiting Kyoto, Japan and if you ever make your way there here's what I recommend!
1. Take an early morning stroll through Fushimi Inari Shrine. Inari is the god of rice, but in Japanese culture they also worship Inari as the patron of business. All of the torii (orange gates) have been donated by a different business for prosperity in their future endeavors. There are more than 10,000 gates at this beautiful shrine and it can take about 2-3 hours to get through all of them. I highly recommend taking advantage of any jetlag you may have and head there as early as possible. Not only is it located in the woods and can get very muggy during summer, but it is also one of the busiest places to visit in Kyoto. Early morning means not as many people!
2. Visit Kinkaku-ji Temple. This zen gold leaf covered Buddhist temple is another very popular sight in Kyoto and for good reason-it's beautiful! It was originally built in 1397 as a residence for a shōgun (military dictator) and is set in a traditional Japanese strolling garden on a reflecting pond. Although there are lots of tourists, you are sure to get a beautiful picture of the temple from across the pond. Just a heads up, you cannot go inside this temple!
3. Try their soft-serve ice cream. You'll definitely notice everywhere in Kyoto there are stands for ice cream. They come in all kinds of crazy flavors like matcha, black sesame, and more. It might sound bizarre but they're so good! I personally loved the matcha flavored ice cream the best but you definitely should try them.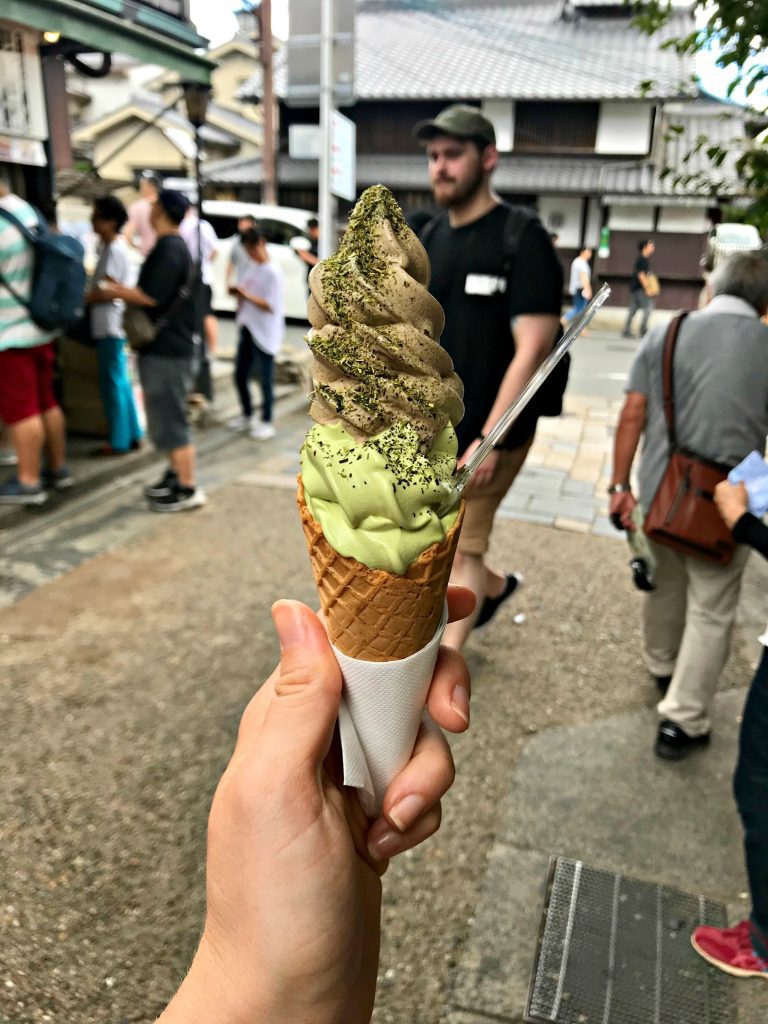 4. Stay at Daiwa Royal Hotel Grande. My favorite hotel in Kyoto was definitely Daiwa Royal Hotel Grande. It's a brand new hotel and very beautiful. The staff was also amazing at giving me advice and helping me figure out my plans for the day! It's also very close to the train station.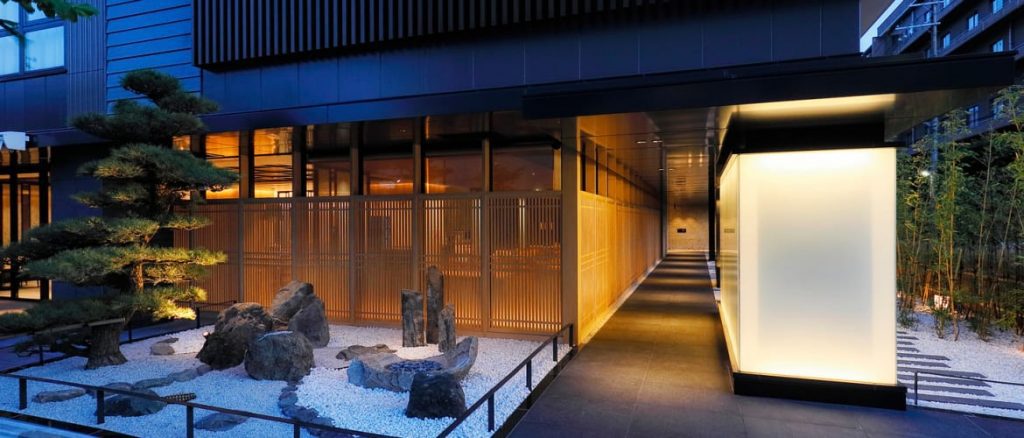 5. Spend a few hours in the Gion District. This Geisha district of Kyoto was my favorite area. It's a very traditional area of Kyoto with beautiful wooden buildings, Geishas, temples, and restaurants. Walking around you'll see plenty of kimono wearing locals. It's like you've stepped back in time, but with amazing restaurants and bars.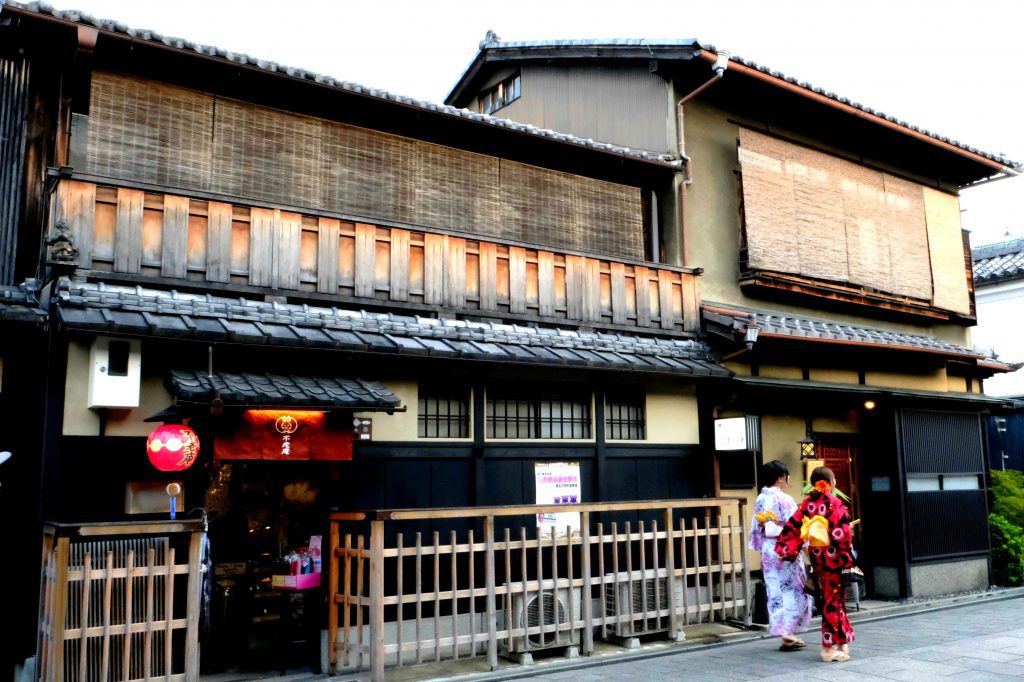 6. Tour Nijo Castle. This UNESCO World Heritage Site was originally built in 1679 and is a feast for your eyes. It has beautiful hand carvings, hand painted walls, and a wonderful garden to walk around in.
7. Eat ramen. Honestly, you can't go wrong with any restaurant that serves it in Japan in general. However, after Nijo Castle I found Gouriki Ramen. I knew right away it was going to be good from the line of locals waiting. After some help figuring out how to place my order in what looked like vending machine, I was given a ticket and sat down. I honestly have no clue what I ordered but it was one of the best things I've ever had in my entire life. Flavorful, rich broth was paired with chunks of meat and succulent homemade noodles. Swoon.
8. Take in the views at Kiyomizu-dera temple. This very popular and colorful Buddhist temple is another UNESCO World Heritage Site. It sits high atop a hill which makes for some very beautiful views.
9. Make friends with the locals. Being a tall, blonde woman in Japan made me definitely stand out. If I ever looked lost or confused locals would always approach me to see if I needed help, even if they didn't speak English! They're some of the sweetest people I've ever met traveling. My trip to Japan was a solo trip but I never felt unsafe or alone… especially when eating! They would always try and talk to me.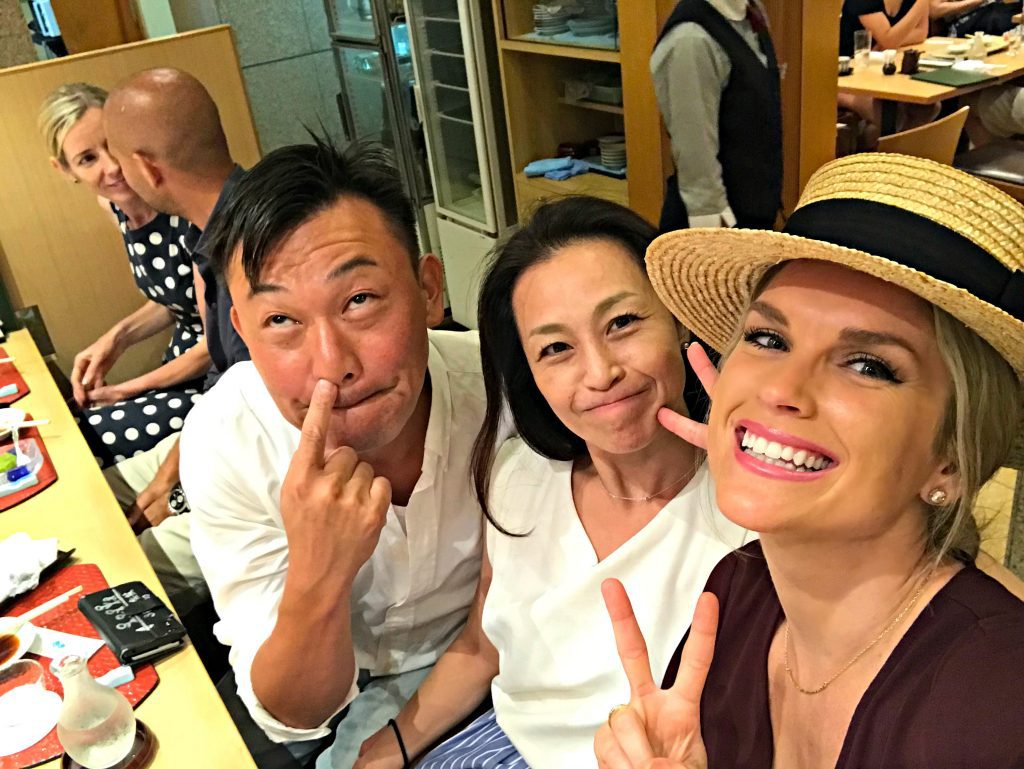 10. Take a stroll along Philosopher's Path. Take a reflecting stroll along the stone lined path and stream. I was there during summer when everything was beautifully lush and green. However, I can't even imagine the beauty of fall, cherry blossom season in spring, or the snow in winter. Every season is magical in Japan.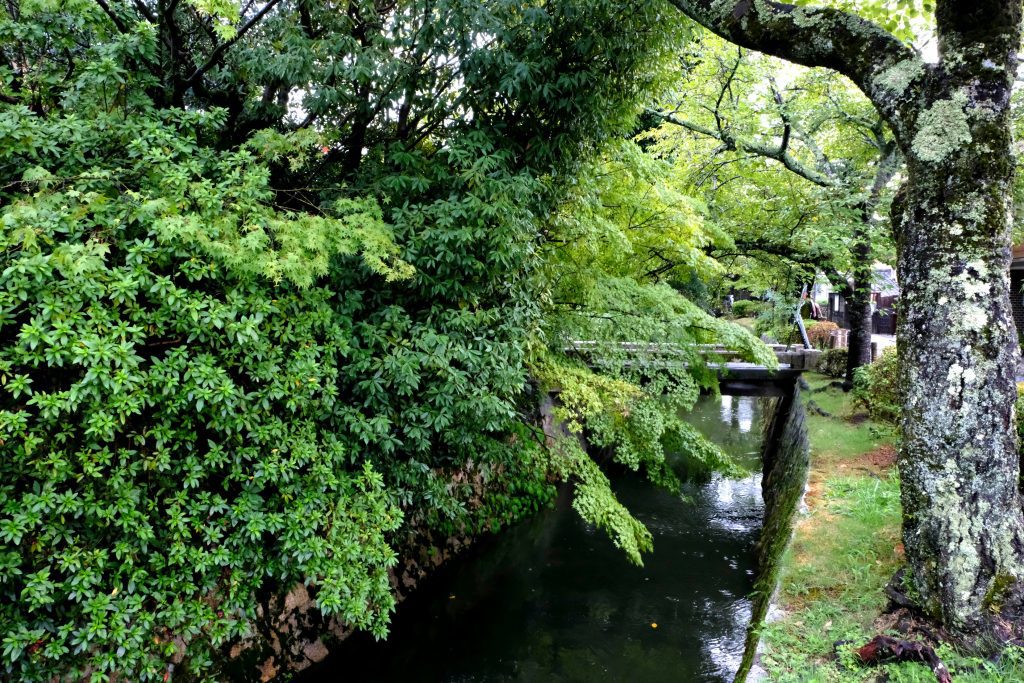 11. After walking Philosopher's Path walk around Ginkaku-ji. This beyond zen temple is named the 'Silver Pavilion' was built in the 1480s and it a must visit. The temple is surrounded by beautiful moss covered gardens, bamboo groves, and dry-sand gardens.
12. Take a dip in a tradition onsen. An onsen is a Japanese hot spring and bathing facility. The onsen is a very important part of Japanese culture and they take it very seriously. After a long day of walking and exploring soaking in the natural hot springs does just the trick. Just a warning- you have to be butt naked…in a room… filled with naked Japanese women or men. :-/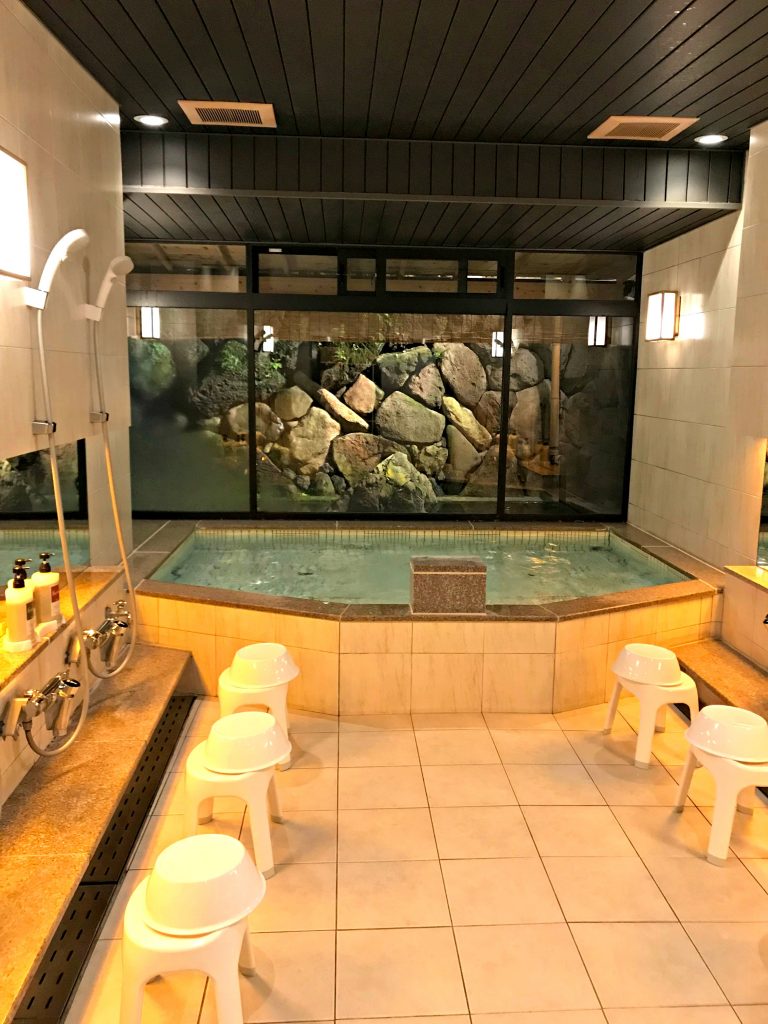 13. Stay at a traditional ryokan (at least one night). A ryokan is a traditional Japanese inn that they first started back in the 8th century. They aren't glamorous by any means, but its a fabulous way to see into the traditional Japanese culture. I stayed at Nishiyama Ryokan while in Kyoto for one night and it was an incredible experience.
14. Have a traditional Japanese dinner. While staying at the ryokan I was invited to have a traditional Japanese dinner there. Kimono wearing ladies served me an intricate and delicate meal comprising of many different small courses. Normally very seafood-forward, but very delicious and a unique dining experience.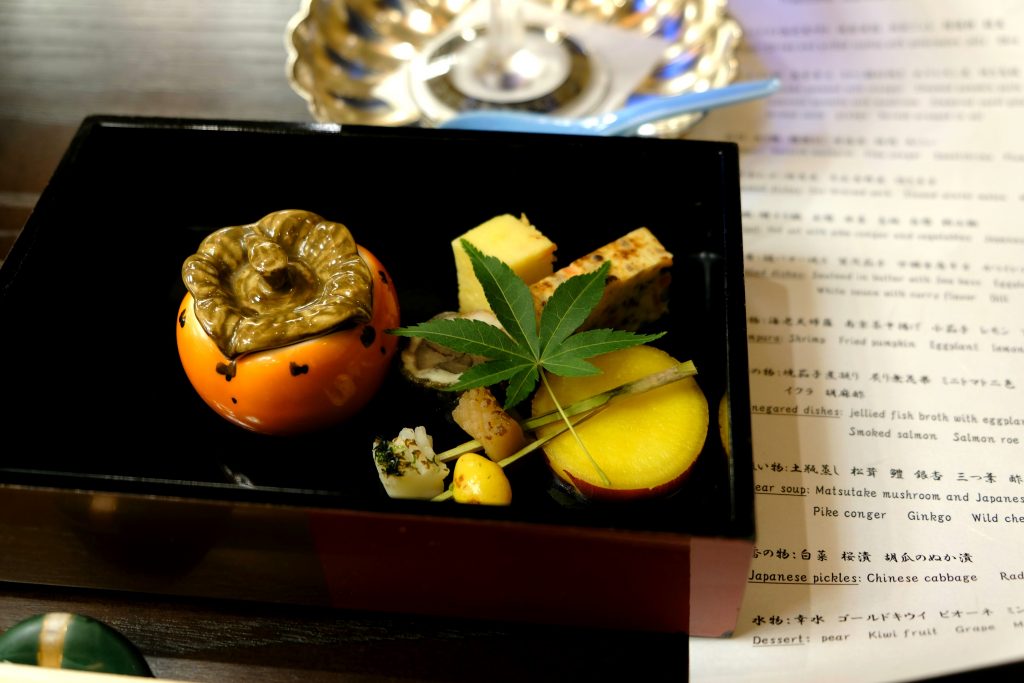 15. Watch sunset or sunrise by Hokanji temple. This beautiful area of Gion is the perfect area to watch the sunset or sunrise. People flock to the traditional streets to watch the sky light up.
16. Visit the Arashiyama Bamboo forest. Located on the outskirts of Kyoto is where you'll find this historic and beautiful site. Take a walk through the iconic bamboo forest and think you're in heaven. Just a tip, head there as early as possible-it gets very crowded midday!
17. Visit Tenryū-ji temple. This zen temple was built in the 1300s and sits at the foot of the mountains and right by Arashiyama Bamboo forest. It has serene and expansive gardens to visit.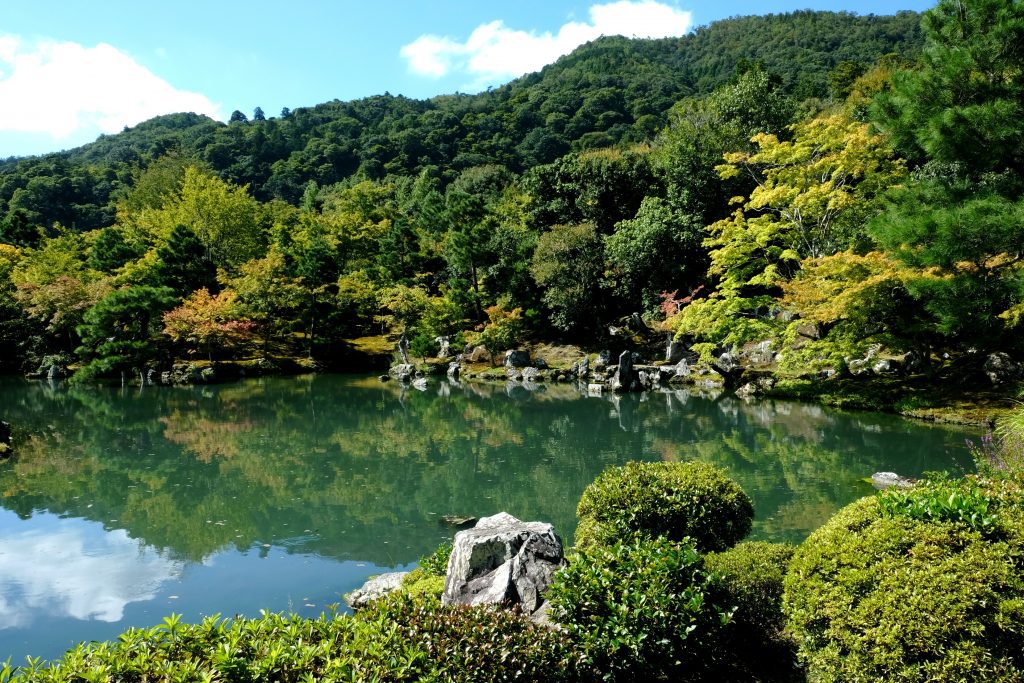 18. Walk through Ōkōchi Sansō. This beautiful garden and home was once home to the famous Japanese actor Denjirō Ōkōchi. It is also located right next to the Arashiyama bamboo forest and is insanely beautiful. A ticket to the gardens also gets you a sweet and matcha tea at the teahouse in the garden.
19. Eat as much street food as possible. I walked a lot in Kyoto (like 8-10 miles a day) and would work up an appetite often. Around every turn was incredibly amazing and unique street food- whether savory or sweet. Take advantage of it!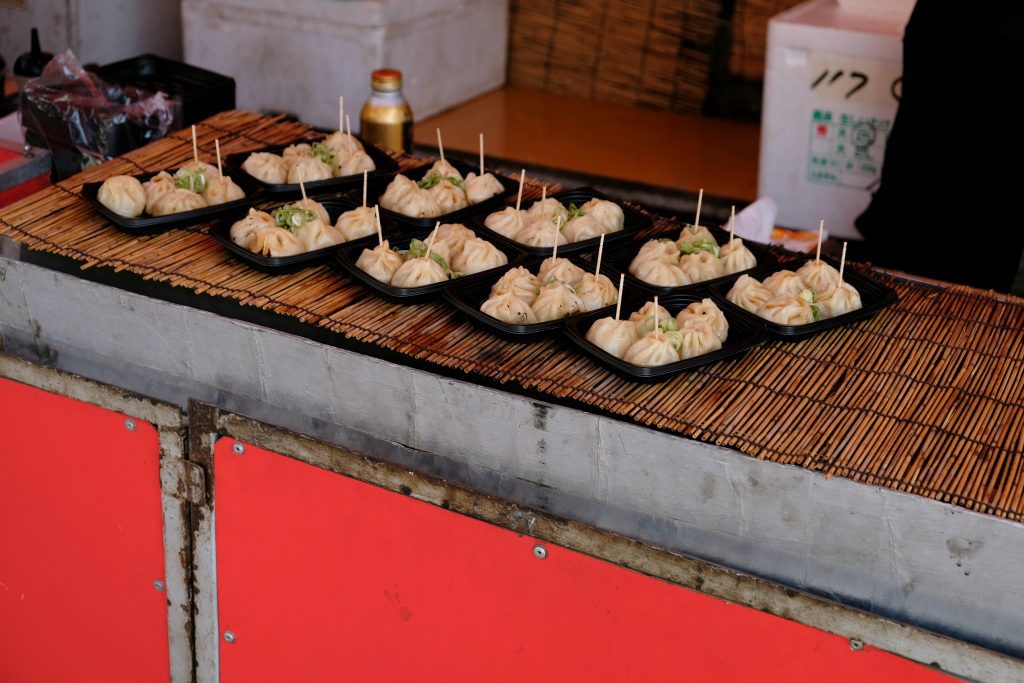 20. Make your way around Nishiki Market. This amazing market has incredible food and goods. Its filled with locals picking out fresh beautiful seafood or produce or just grabbing a quick snack. It's a really great way to experience all that Kyoto and Japan have to offer. They also have handmade goods that make for the perfect souvenir!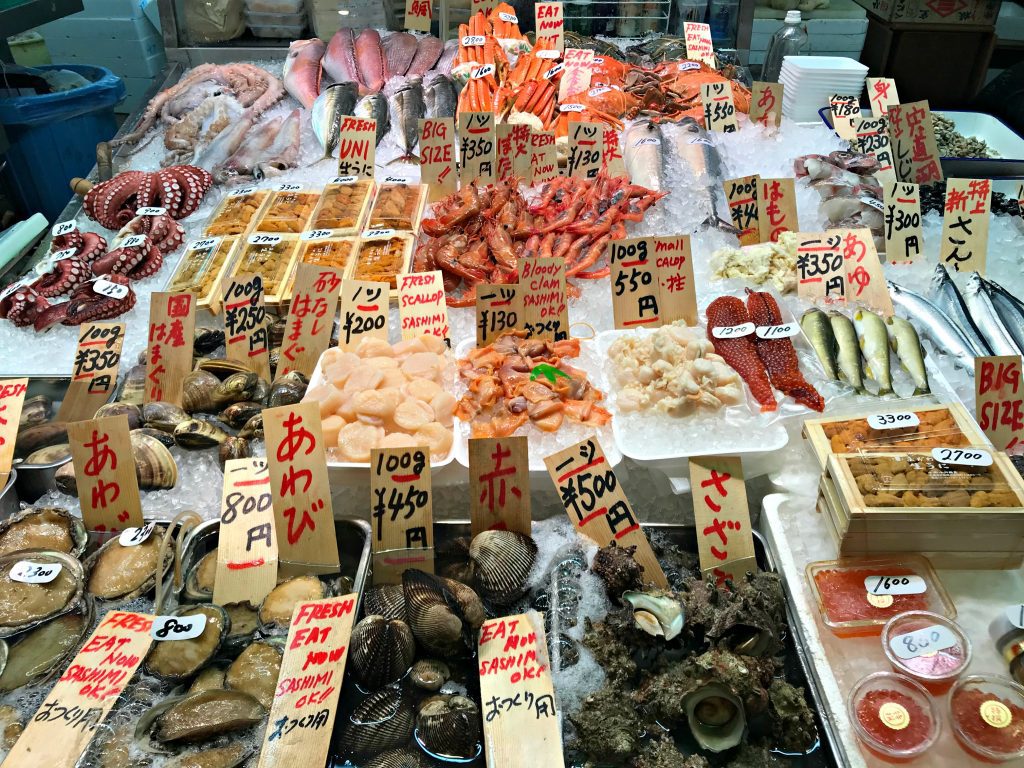 21. Experience Japanese beef- yakiniku style. Japan is known for its been (Kobe, Waygu, etc) and a popular way to enjoy it is around the table with a grill in the middle. The meat has a flavor unlike any beef you've had before. Meaty, rich, and insanely delicious.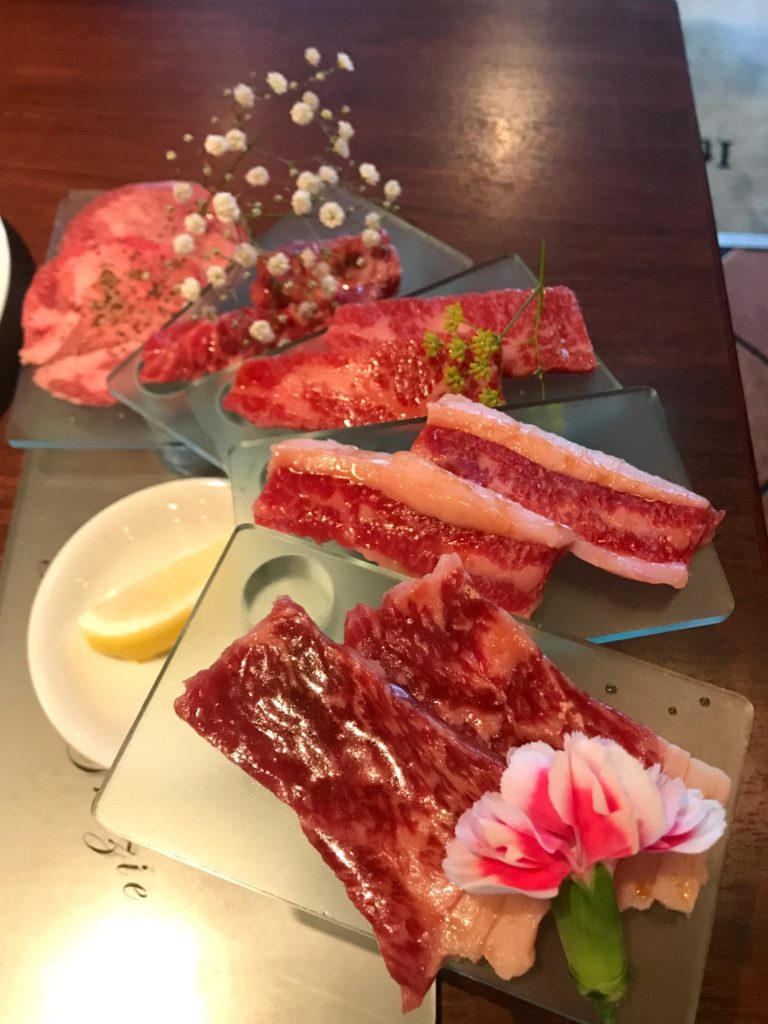 22. Head to Fushimi-ku to get your sake on. One of the coolest (and relatively unknown to tourists) is the Fushimi-ku area. It's packed to the brim with different sake distilleries. Some advice- go before 4 pm. I arrived right at 4 and they were all starting to shut down. However, I did find an amazing place that was open and it was delicious. A must visit while there is definitely Fujioka Shuzo!
23. Walk around Ninenzaka Street. This charming pedestrian street close to Kiyomizu-dera is filled with cute shops, cherry blossom trees, and tea houses. You feel as though you've stepped back in time to ancient Japan in the best way possible.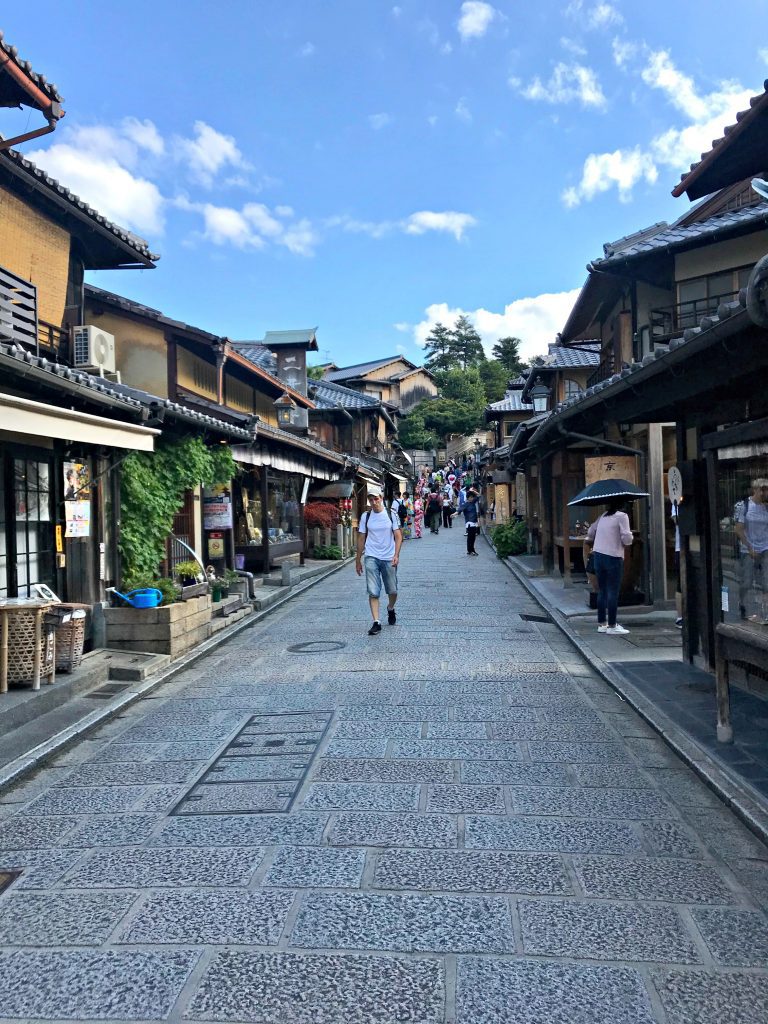 24. Eat sushi. This might seem obvious by its a must while in Japan. I had some incredible sushi while in Kyoto at my favorite sushi restaurant Sushi Sei that was recommended to me by a local. I had an amazing time sitting at the sushi bar watching the masters work, drinking sake, and making friends!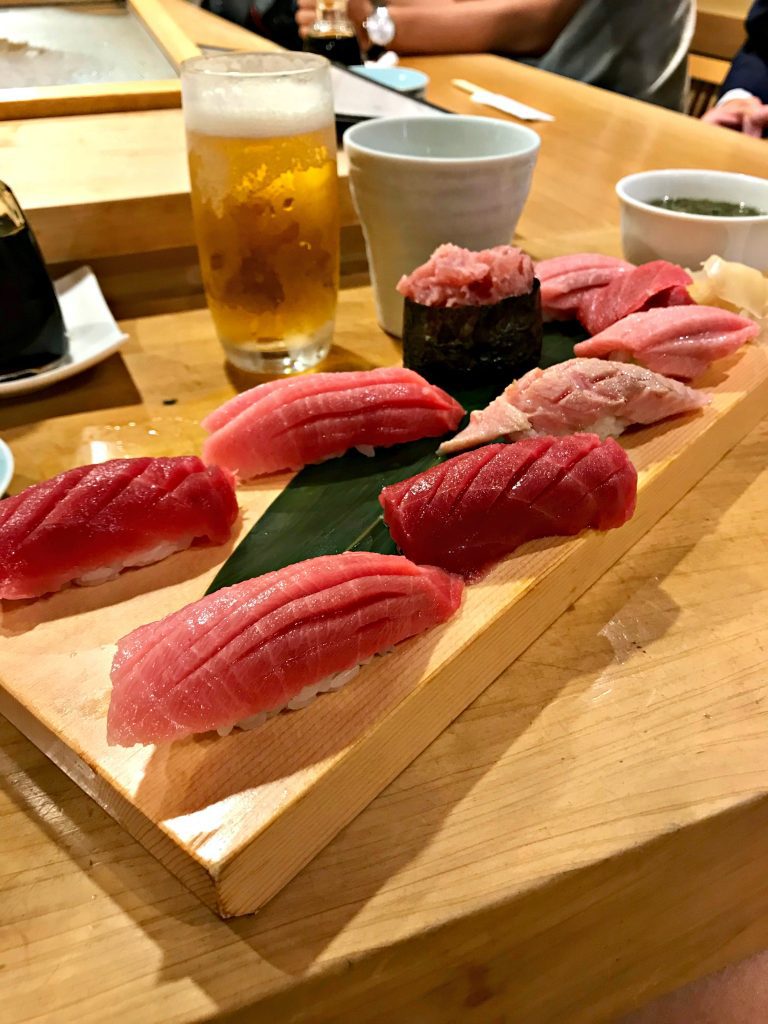 25. Drink Japanese whisky. Surprisingly enough the Japanese take their whisky making seriously, and it shows. Have it neat or do like I did and have it in an old fashioned. My favorite bar was Gion Finlandia Bar. It was a warm and inviting little bar and the perfect place to cheers an amazing time in Kyoto. Just a heads up- most bars in Kyoto (especially Gion) charge an entrance fee!