Deep in the heart of Nicaragua on the Pacific coast lies a magical place surrounded by lush forest, wild nature, and untouched beauty. From the moment I saw this wellness resort online I knew I had to visit, and boy am I glad I did. I flew into the capital city of Managua and then hired a car to drive me a scenic 2 1/2 hours though the heart of the country to the Emerald Coast. The unpretentious entrance led us down an unpaved road through thick bushes until we reached the quaint reception area.
We were checked in by the sweet receptionist and given a cold lemongrass scented towel and a cup of delicious fresh pressed watermelon juice while we waited. After checking in two men grabbed our suitcases and we were off to our treehouse. With every step on the tree covered walkway the anticipation grew inside of me. After less than a minute of walking we were met with the most stunning coastal views, so beautiful it almost brought a tear to my eye.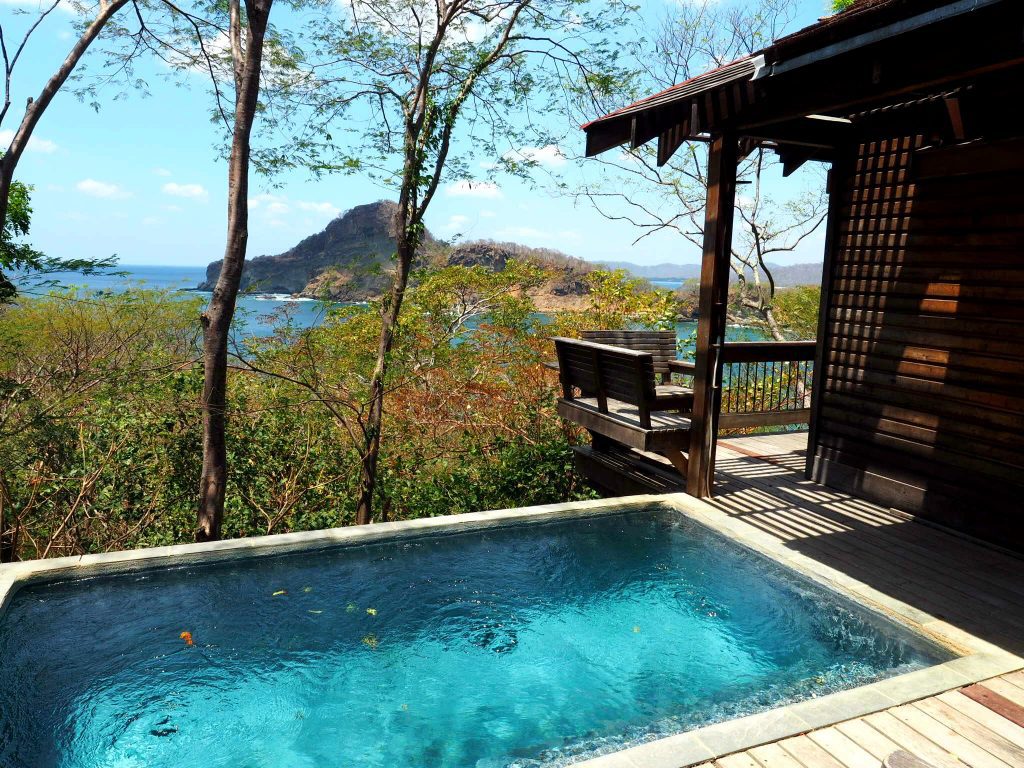 With a turn of the key we were in our gorgeous treehouse. Wood lined vaulted ceilings, a king sized plush bed, wonderful bathroom, air conditioning (YES!), and incredible views surrounded us. Pictures I had seen online didn't do it justice. With a step out of the back sliding doors we were on to our own private deck where we had our own pool overlooking Redonda Bay and another little bungalow housing our own kitchen.
We spent hours on end in our perfectly chilled pool on warm Nicaraguan days, sipping on their local beer (which was quite delicious actually) Toña and taking in our surroundings.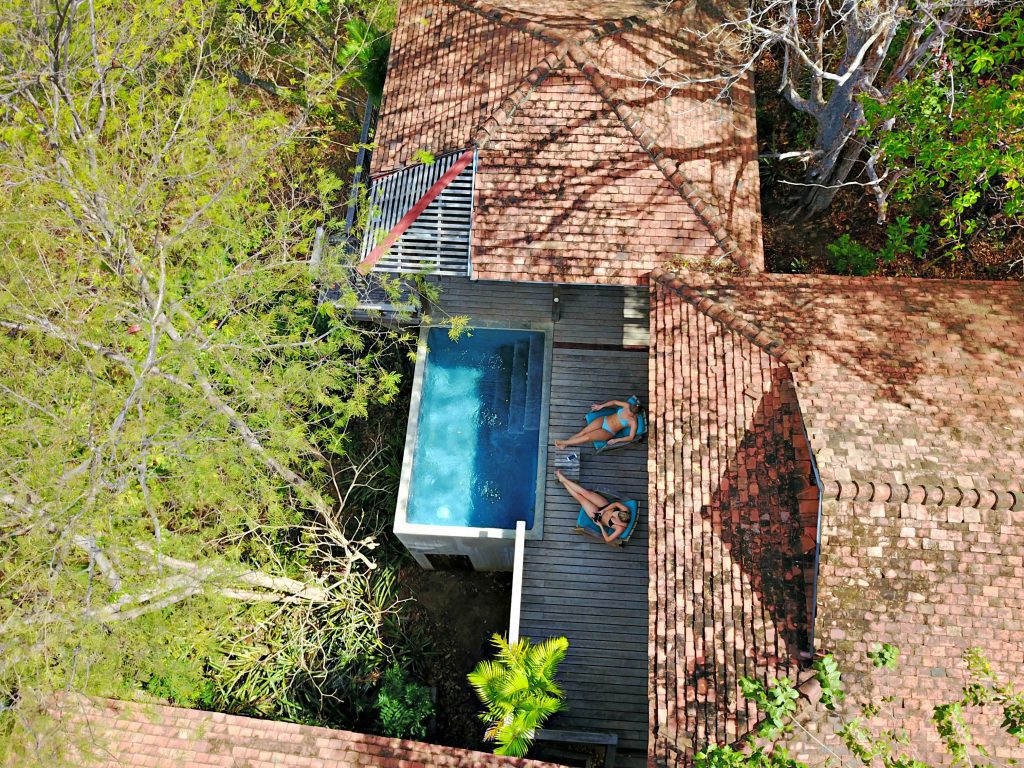 Walking out of the treehouse we would walk all the way down the paved walkway to the coast where their restaurant, bar, and beach was located. Upon our arrival every time, we were always met by the sweet staff members and incredibly delicious food and cocktails. We had breakfast, lunch, and dinner there every day and never grew tired of it! In the morning we would dine on breakfast tamales, dragonfruit smoothie bowls, and always one of their famous juices or smoothies- I had to have a funky monkey every day! For lunch we would get delicious fajitas or innovative sandwiches and always guacamole (duhh). Along with the sandwiches we would also get one of their amazing cocktails like a fresh passionfruit daiquiri or a classic mojito. Dinner at night under the uninterrupted sky and romantic string lights and candles was always a dreamy experience. The chef, hailing from Argentina, recommended to me to get the churrasco steak with coconut rice which was absolutely incredible. My friend got the fresh mahi mahi in a lemon caper sauce one night- also incredibly delicious. If you decide to go out on a fishing excursion (which I TOTALLY recommend doing) they will cook what you catch!  Nothing better than that.
With Aqua being a wellness resort that means they have free yoga classes twice a day in an epic setting overlooking the bay. In the morning you can do a more advanced class while in the evening its a restorative class. Now, I'm the not the type to ever workout on vacation but the classes were so great I felt it would have been a waste not to attend. Gentle poses while listening to waves break on the rocks beneath you while a gentle salty breeze surrounds you is my idea of relaxation. Not to mention with all of the steep steps you have to climb to get around the resort it felt amazing to stretch out my legs.
We decided one morning to treat ourselves to a nice body scrub and massage after yoga. The spa room was gently lit by candlelight and as soon as I walked in I instantly felt relaxed. My first treatment was a cacao body scrub and then after a quick shower a deep tissue massage. After my incredible treatments and my skin felt baby smooth I was treated to a glass of freshly pressed juices and a plate of beautiful local fruit on the deck of the treehouse overlooking the water.
If you're looking for other activities to do while there besides relaxing by your pool, beach, or doing yoga there are plenty of options! First of all, Nicaragua is known for its amazing surfing. Close by are surfing towns that Aqua can help arrange to take you there. If you're wanting to stay close they offer free paddleboards, kayaks, and snorkel rentals right on their beach! The beautiful Redonda Bay Aqua sits on is the perfect place to explore and also to try and find baby sea turtles! Right next to Redonda Bay is a small surfing town called Gigante. There's a direct path that you can walk over to the beach town for a taste of a laid back surfer scene. Also available are deep sea fishing excursions. My friend and I hired a captain to take us out for a few hours and caught a plethora of tuna and mackerel. It was a fun action-packed day and a great way to see the coastline. Another fun day trip, and one I sadly was not able to do, is to head 2 hours over to the vibrant colonial style town of Granada to explore for the day. I will go back to Nicaragua one day soon just to visit here! There's many more options available- just ask the concierge!
I couldn't, and still can't, get over how incredibly amazing this resort was. Every day felt like a dream being there. Waking up to the sounds of the ocean, looking out on my deck and seeing monkeys playing, and hearing wild parrots squawk in the trees around me made me feel so close to mother nature. The sunsets everyday looked as though they were hand painted with vibrant orange, purples, and yellows I looked forward to them everyday. There was not a moment there that I felt ready to leave and even now I can't help but wish I was still sitting on my deck overlooking the water.This special resort is one that I highly recommend if you're looking to get in-touch with nature and yourself and it is definitely a place I plan to return to one day. Thank you Aqua for an incredible experience! Click here to check out more and book with Aqua Wellness Resort!