From the moment I landed in Chile I knew this place was special. Unlike other Latin American countries I've visited, this one felt different. It had the vibrancy that I find all Latin American countries possess, but it also very much had a European feeling. I unfortunately find in many Latin American countries that they aren't the cleanest. There is usually a lot of littering and not as much awareness around disposing of trash or recycle. Not Chile. Cherished, clean, wild nature is a standard here. Loving it, embracing it, and encompassing yourself in it- that is what Chileans do. You don't find that in very many countries and I was instantly drawn to Chile for this reason. Chileans are proud of where they are from and I would be too! It's one of the most naturally beautiful places I've seen. From a modern bustling capital to untamed nature of Patagonia to picturesque wine country- Chile has it all. I'm dying to go back already and it's only been a few months since my visit! I can't recommend Chile enough, and if you are lucky enough to go here are my must visit places for the ultimate week!
Pucón
After flying into Santiago, take a quick flight down to Pucón. This beautiful area is part of the Lakes and Volcano district of Patagonia and one you can't pass up. From there head to the amazing Hotel Antumalal. This boutique hotel is Bauhaus architecture at it's finest overlooking one of the most beautiful lakes.
In Pucón there are many nature trails to take advantage of. My favorite was Huerquehue National Park that leads you through 1,000 year old sacred Araucaria trees and up to Torros Lake. Make sure to pack a lunch for a once in a lifetime lunch experience.
If you're not looking to exert that much energy- get on a sailboat and cruise around the lake that is surrounded by untouched nature and snow capped volcanoes.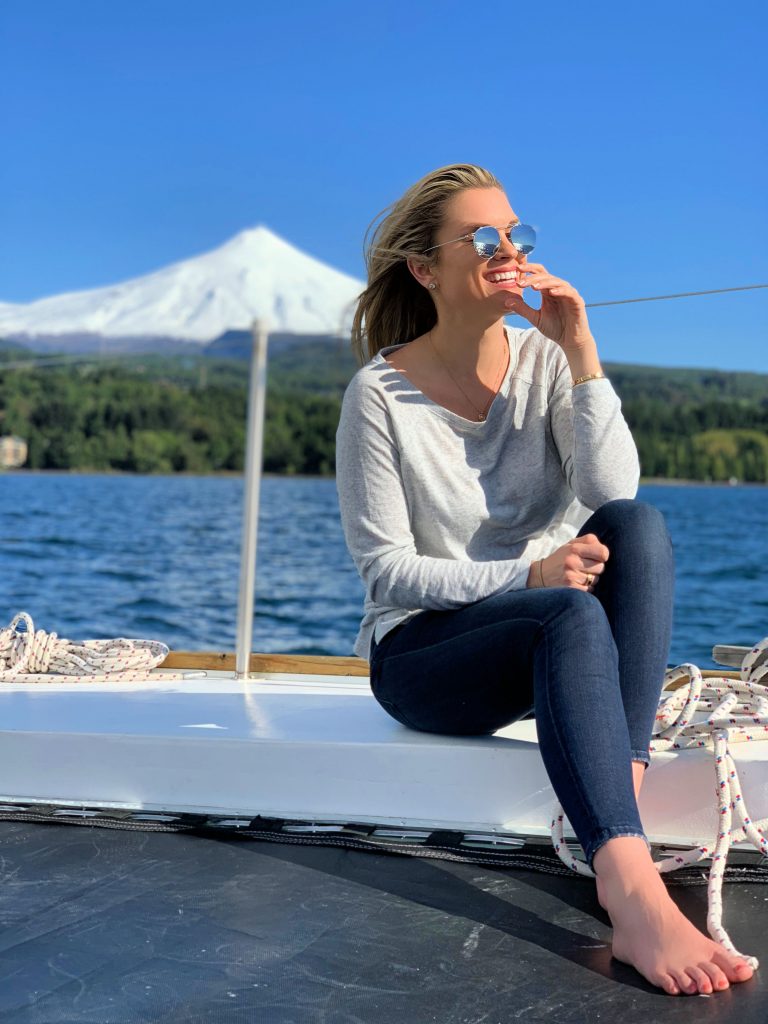 Near Pucón is where the indigenous Mapuche Tribe have a village that foreigners can visit. Spend a day with this amazing tribe, learning about them, getting to know them, sharing mate (their tea), and eating their amazing food (make sure you stop at Anita Epulef restaurant!).
Also around Pucón are some incredible artisan craftsmen. Go explore and make sure to stay at least 3 nights in this beautiful area. Click here for more on Pucón!
Huilo Huilo
About a 2 hour drive from Pucón is where you will find this magical reserve. Set under the majestic Andes mountain range, this dreamy area is a one of kind place. It's a biological reserve set on 148,000 acres of untouched landscape. Make sure to stay at Hotel Nothofagus or one of their other amazing properties in Huilo Huilo. You feel as though you're sleeping in a beautiful treehouse, surrounded by nature.
Depending on what time of year you go there are a variety of activities. I was lucky enough to visit during Spring, when the beautiful weather started and the bright green leaves were abundant. Located in Huilo Huilo are some beautiful hikes to some pretty incredible waterfalls. My favorite was Salto de Huilo Huilo. Incredible.
Also available during Spring/Summer, which was one of the most unique experiences I've ever had, was to drive up to the top of a snowy volcano to enjoy wine and cheese at sunset. My friends at Huilo Huilo can set this up for you! Being surrounded my snowy mountains while sipping on wine is something I wish everyone could experience. Also amazing- on that same volcano you can ski year round!
If you're wanting something more relaxed my amazing friends at Huilo Huilo can also set up an excursion to take you by boat on Lake Panguipulli where there are natural springs you can soak in. Picture this- a hallowed out tree trunk with natural springs along a misty lake in the middle of a forest while drinking wine. I feel so relaxed just writing that sentence.
Also at Huilo Huilo are some pretty incredible restaurants to choose from and an amazing brewery!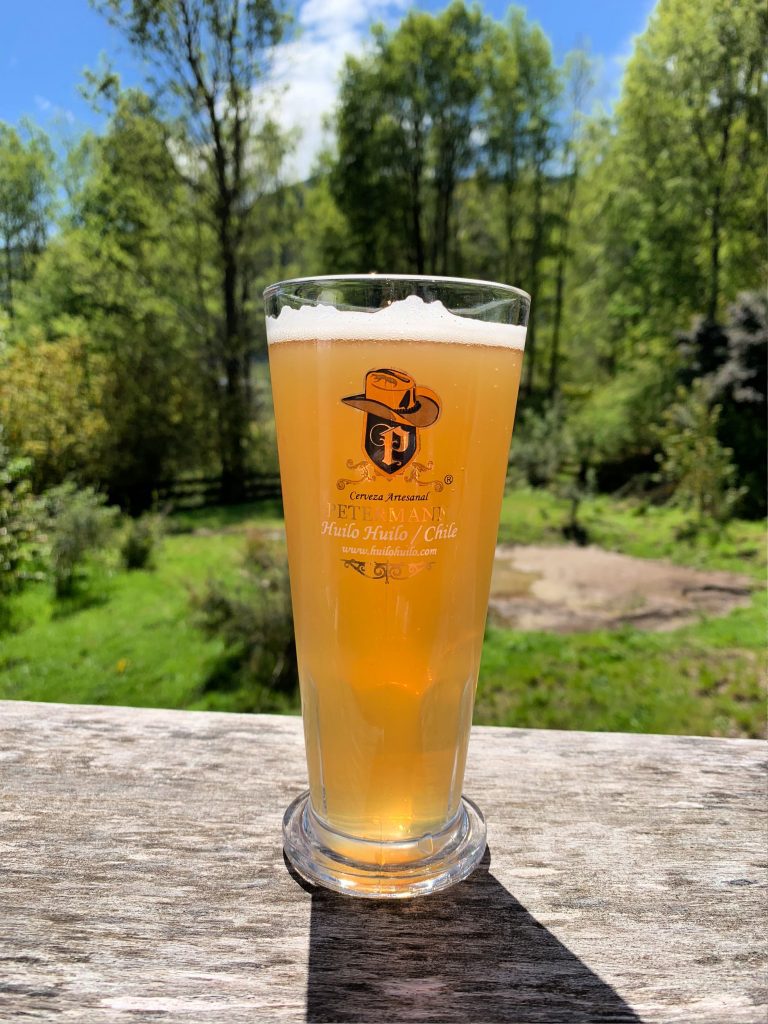 Stay here 2 nights before driving back to the airport you arrived in and flying to Santiago. Click here for more on Huilo Huilo!
Santiago
After Huilo Huilo, fly back to this very vibrant capital city. Stay at Hoteles Cumbres in my favorite part of Santiago- Lastarria.
The best way to see a city is by bike, so take a tour with the very knowledgeable La Bicicleta Verde. They will show you around all the different neighborhoods of Santiago and talk about Chile's dark past and very bright future. You'll ride around through Forestal and Bustamante parks, though charming streets, and to GAM cultural center that is packed with locals dancing and relaxing.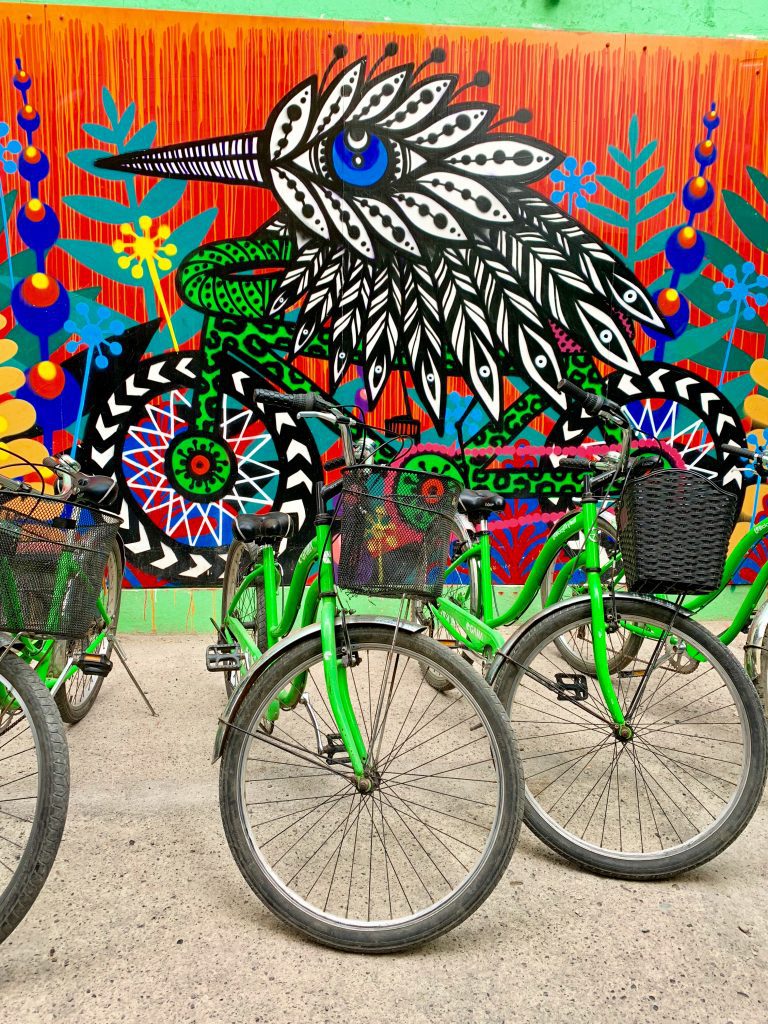 This gorgeous city is filled with art, life, and happy people dancing on every corner.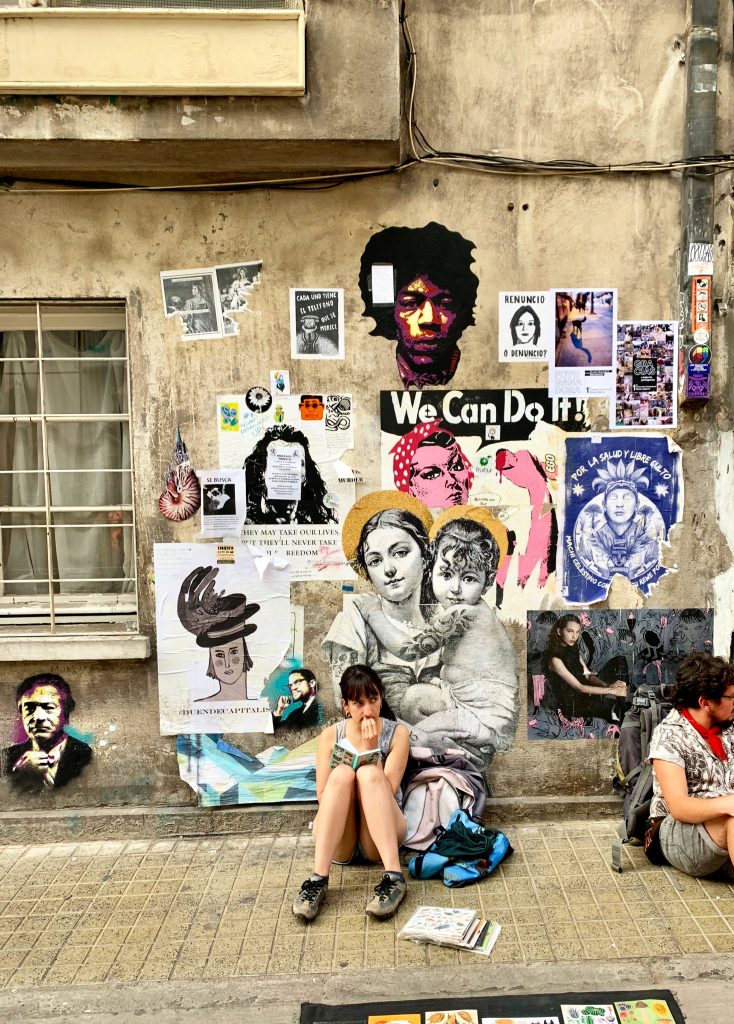 Spend the day exploring the different areas that Santiago has to offer and make sure to grab dinner at sunset at Hoteles Cumbres, overlooking the majestic mountains in the background.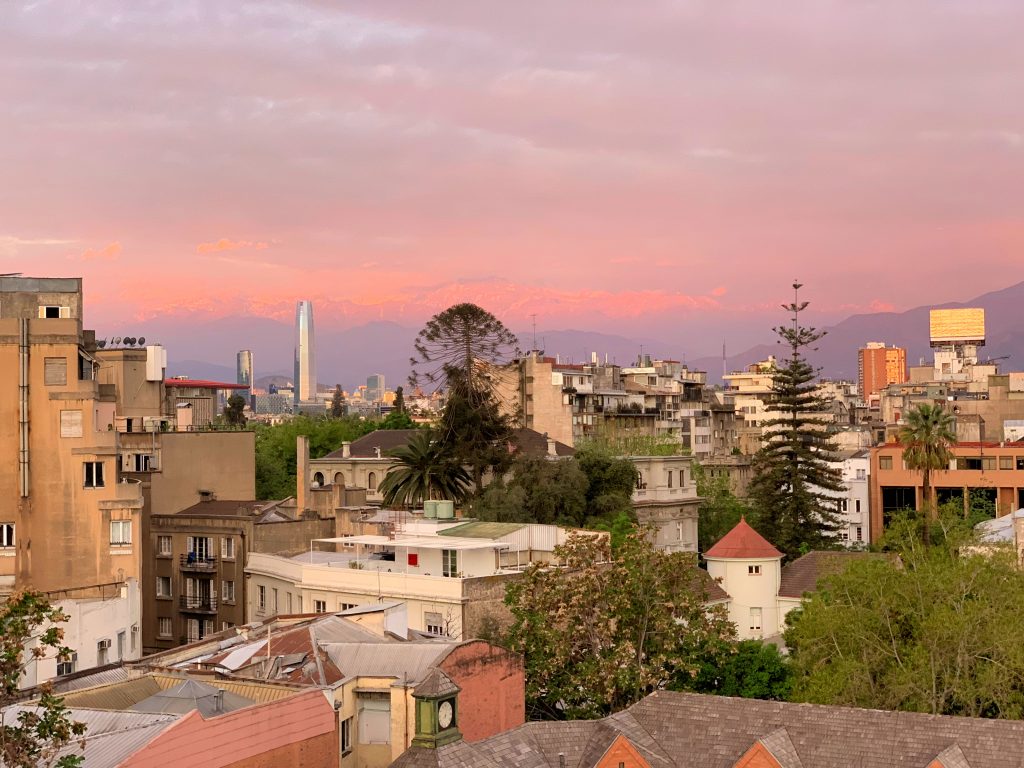 After dinner, grab a cocktail or two at Chipe Libre then Siete Negronis. I was only in Santiago for 1 night, but I would definitely recommend staying longer- it was absolutely gorgeous!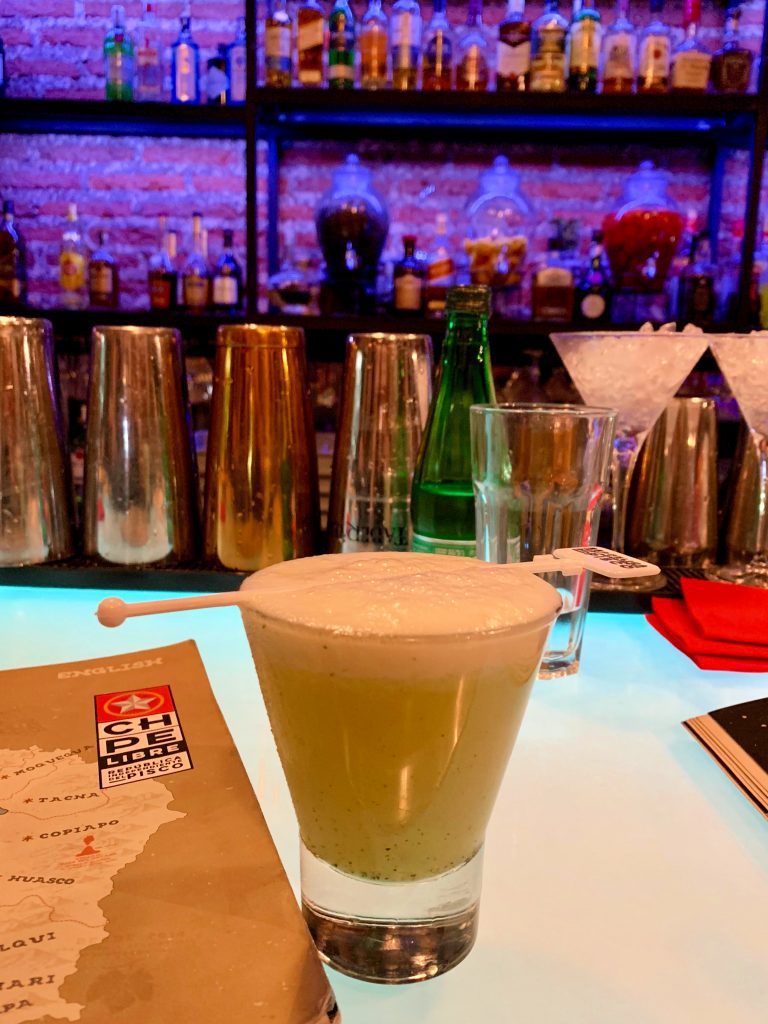 Colchuaga Valley
After leaving the hotel in Santiago, take a scenic drive out to the beautiful wine country of Colchuaga Valley. The first stop should be at my favorite- Viña Neyen.
Over the course of 2 days I highly recommend also visiting Viu Manet and Viña Santa Cruz. There are many beautiful wineries to choose from in Colchuaga Valley.
If you're looking for a hotel with an old world vibe in a super cute plaza- then I recommend staying at Hotel Santa Cruz. If you're looking for an upscale hotel then Vik might be more for you! Either one is a great option.
In the plaza next to Hotel Santa Cruz are lots of cute little shops (where I spent way too much money), a park to walk around in, as well as the Colchuaga Museum– which was surprisingly amazing.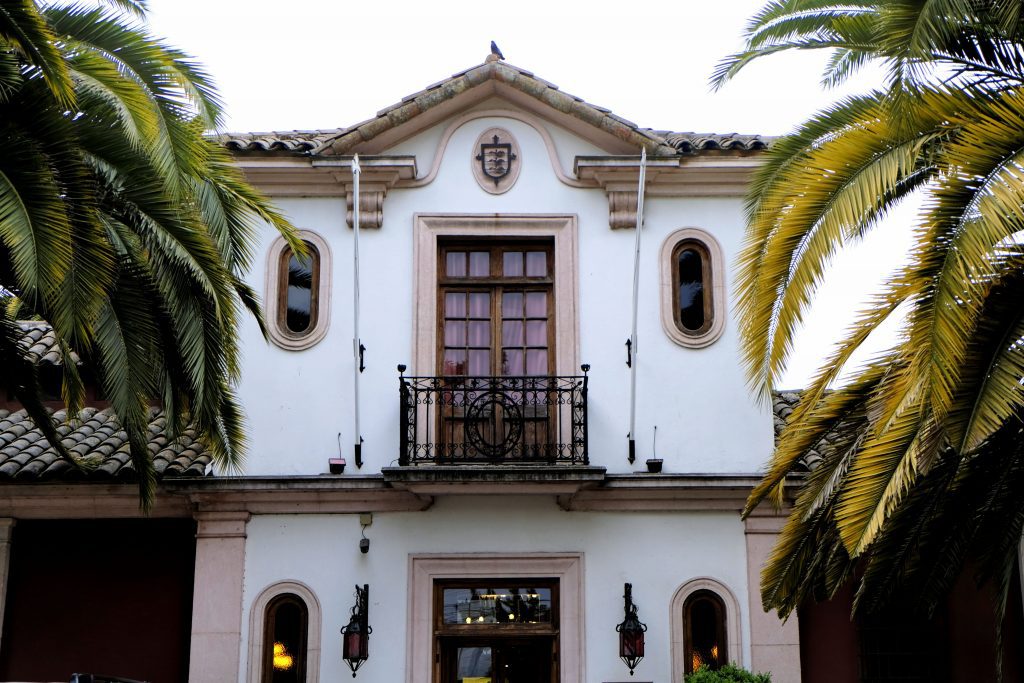 There are some great restaurants around but the best (by far) is Fuegos De Apalta. Make sure you make a reservation in advance! This gorgeous restaurant is not only amazing but very special.
Make sure to stay 1 night here- but if you can stay longer! Its one of the most beautiful wine countries I've seen. Sadly, it is time to go home after an one of the most incredible weeks possible. I'll be back Chile! Click here for more on Colchuaga Valley!